Article contributed by Stephanie Gilliland, Challenge leader in Edmond, Oklahoma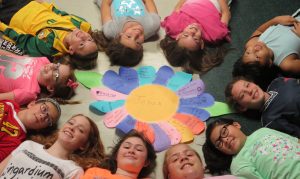 The Challenge club in Edmond Oklahoma has had a great year so far with so much activity and life.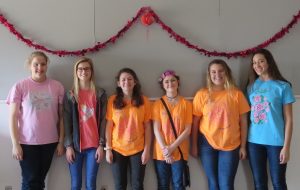 Our first Apostolic Project was an All Saints Party at St Anne's, a local retirement center. The activity was so much fun for the girls and residents. We had a Saint Parade and sang. We helped the residents make sympathy cards for a friend or relative that had lost someone the past year, in honor of All Souls Day. The girls worked with the residents to put names of those they had lost on a card and had a balloon release into the air. The activity would not have been complete without some snacks, so we had punch and cookies with them and gave each resident a goodie bag. We also had a Thanksgiving Pumpkin we left in their lobby as a goodbye gift.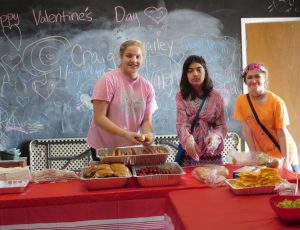 Another great project the Challenge girls did was a Valentine's Day Party at The Center of Family Love, which is a group home for Intellectually and physically challenged people. We decorated the center and served the residents lunch. We were also able to spend time talking with the people there and they showed us around their center.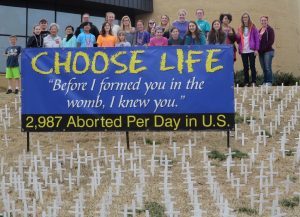 Our club loves getting involved with our parish activities as well. This year we participated in our annual cross planting for 40 Days for Life. The girls really love the meaning behind such a beautiful activity. For the Parish Stewardship Fair, the girls rolled up their sleeves and made King cake as a refreshment. We also worked with the Knights of Columbus this year and helped serve the guests at their Pancake Breakfast. In January, the Challenge girls made Epiphany Blessing Kits and handed them out to parishioners after mass. Our kits contained a small piece of chalk, a small vial of holy water and instructions for the blessing of homes ,all of which the girls took to the altar for a priestly blessing during each mass.
The year still has a few months left and I am sure the girls will continue to make a meaningful impact in many other lives.