Article contributed by Jesica Martinez de Hoz, Challenge team leader in Oakville, Ontario.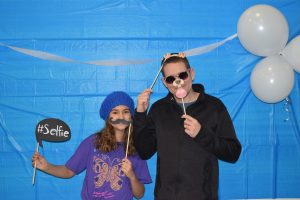 On February  24th, the Oakville Challenge group had an amazing Father-Daughter Night. This gave the girls and their dads the opportunity to spend quality time together and also to laugh! Throughout the night they had opportunities to take silly photos at the photobooth, draw memorable portraits of each other, and have a nice father-daughter dialogue about their favorite memories and what they enjoy doing together among other themes.
The fun began with the girls and their fathers presenting each other to the rest of the group. Once everyone was introduced, they were split into two teams for a "friendly" dodgeball game. While the fathers might have gotten a little bit competitive, everyone had a great time. Then, each dad & daughter was given stacks of newspaper and tape to build a tower. After some time of creative building and bonding experience, the judges announced winners for the tallest, strongest, and best looking towers! And off course, the winners were awarded with some decorations.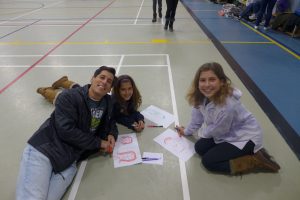 Another highlight of the night was the funny fashion show. The group was split up into two teams, each with a brave dad who volunteered to strut down the catwalk. Shortly after the teams created their outfits, the music was turned on and the show began! Seeing two fathers give their best catwalk in a stylish, but also funny, outfit was enough to create laughter that seemed to never end.
Following these entertaining activities, everyone gathered around a statue of Mary to pray and reflect. The girls prayed a prayer for their dads who in turn did the same for their daughters. It was a very special moment. Then the smiling and laughing continued as everyone got ready to leave after an amazing night.