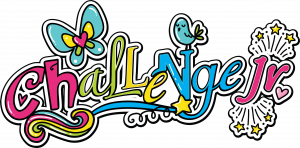 Program Description
K-4th grade girls' catholic faith and virtue program with 3 series of twenty weeks of curriculum each.  The Junior program is made to match the developmental needs of early elementary age.  Each meeting is built around a virtue and giving the girls ways to live it out with God, at home, at school or with their friends.  The program is made to be led by middle school mentors with the support of Mom's to fosters the mother/daughter relationship.  The meeting structure is made up of fun, crafts, activities, saints, prayers, and games to help the virtue become something real and accessible to their age. 
The Challenge Junior youth ministry curriculum focuses on five virtues each year. Each virtue has four weeks of curriculum, which focuses on living that virtue with God, with family, with friends, and at school in the corresponding week. Each virtue has a saint role model that the girls can learn about. The story of that saint will be carried throughout the 4 weeks of meetings by showing a video or telling a story about their life. There are 3 years of Challenge Junior Curriculum. Each virtue campaign also includes virtue stickers that the girls can add to their member cards. There are also coloring pages that you can print and send home.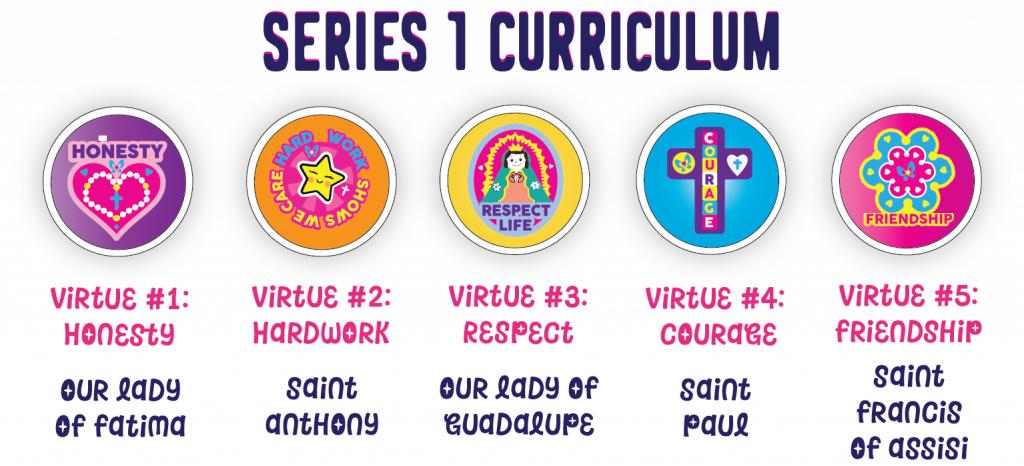 The Challenge Junior Series 1 curriculum features 20 weeks of content through 5 four week virtue campaigns: Honesty, Hard work, Responsibility, Courage, and Friendship.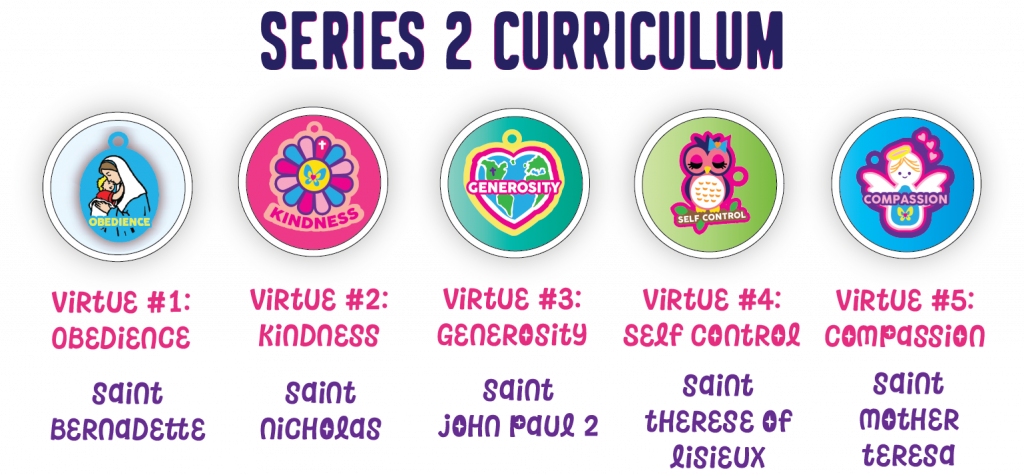 The Challenge Junior Series 2 curriculum features 20 weeks of content through 5 four week virtue campaigns: Obedience, Kindness, Generosity, Self-control, and Compassion.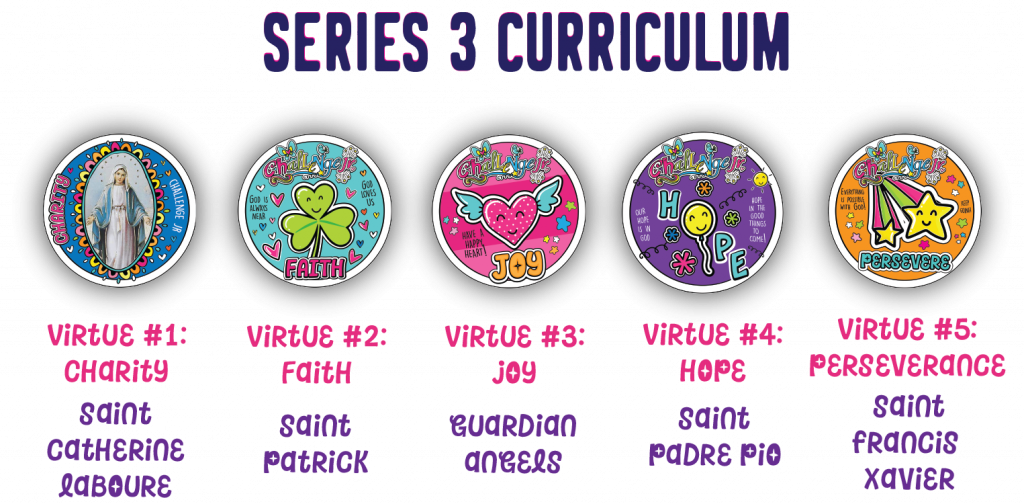 The Challenge Junior Series 3 curriculum features 20 weeks of content through 5 four week virtue campaigns: Charity, Faith, Joy, Hope, and Perseverance.
Weekly Meeting Description
It is suggested for the weekly meeting to be 1 ½ or 2 hours. 
Challenge JR Products:
Getting Started? 
These are the products you will need to successfully get your program started.  As K-4th grade girls are in the developmental stage where hands-on is important for their learning and they aren't yet able to think abstractly; there are different tools offered to help the virtue curriculum be attractive, accessible and tangible for their age.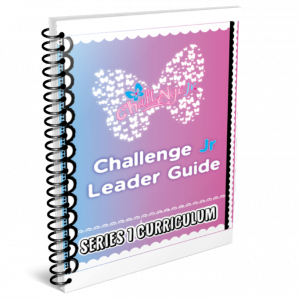 Leader
Guidebook & 
Curriculum
It can help to have a couple of copies to use between your directive team and middle school mentors.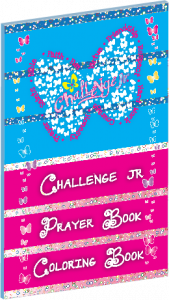 Prayer
Coloring Book
Not only does it have Catholic Prayers in coloring book format, but it also has corresponding virtue pages for each virtue.  This can be used during the prayer chat moment of the weekly meeting.

Member
Card
The Member card has five sections highlighting each virtue and giving space for the girls to put their virtue sticker there.  There is a corresponding card per series.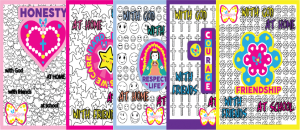 Virtue
Poster
Help the virtues and saints come alive by posters that go with the corresponding virtue and have spaces for the girls to color.  They can be used for coloring during the virtue activity lesson during the meeting.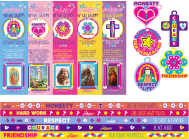 Virtue Charms,
Bracelets &
Saint Cards
Give the girls a daily reminder of the virtues and saints who exemplify them via the Charms, Bracelets and Saint Cards.  You can use the charms as a "reward" for when the girls complete the virtue sessions.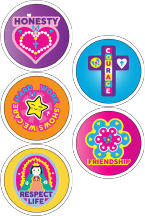 Virtue
Stickers
These virtue stickers go along with the series' virtues.  They can be used with the Member Cards or on their own.  Made to help the virtues stick!
More Challenge JR Merch!
Check it Out!
Tshirts are a great way to create a sense of belonging in Challenge Junior! Find Tshirts for your Adult Leaders and Middle School Mentors too.
Cinch Bags are a great way for the boys to carry around their belongings at a Challenge Junior Meeting.
Promotion and Marketing Material