Virtue of the Month
The Virtue of the month for Challenge and Conquest in the month of October is Faith. There are two types of faith: what we believe (our Catholic faith as a body of teachings) and in whom we believe (God – our personal relationship with him). What we believe is important, but even more important is the One in whom we believe. Faith is hard because it means believing in something that we have not seen. If we could see it then it would not be faith – it would be proof and knowledge. Faith is hard because it involves trusting someone and putting yourself out there. Faith is knowledge and trust. Faith grows when we listen more and more carefully to God's Word and enter a lively exchange with him in prayer.
The disciple of Christ must not only keep the faith and live on it, but also profess it, confidently bear witness to it, and spread it: "All however must be prepared to confess Christ before men and to follow him along the way of the Cross, amidst the persecutions which the Church never lacks." Service of and witness to the faith are necessary for salvation: "So everyone who acknowledges me before men, I also will acknowledge before my Father who is in heaven; but whoever denies me before men, I also will deny before my Father who is in heaven.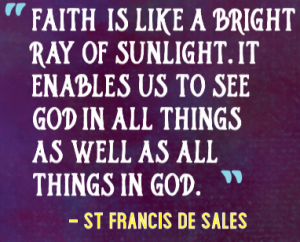 Prayer of Saint Patrick
The Prayer of St. Patrick reminds us that God is active in every area of our life and that we must put our trust in him:
Christ with me, Christ before me, Christ behind me, Christ in me, Christ beneath me, Christ above me, Christ on my right, Christ on my left, Christ when I lie down, Christ when I sit down, Christ in the heart of every man who thinks of me, Christ in the mouth of every man who speaks of me, Christ in the eye that sees me, Christ in the ear that hears me.
Catechism Corner
The Catechism teaches us that faith is the theological virtue by which we believe in God and believe all that he has said and revealed to us, and that Holy Church proposes for our belief, because he is truth itself. The gift of faith remains in one who has not sinned against it. The Catechism number of the month is all about Faith. It is number 2674 of the Catechism of the Catholic Church:
"Mary gave her consent in faith at the Annunciation and maintained it without hesitation at the foot of the Cross. Ever since, her motherhood has extended to the brothers and sisters of her Son "who still journey on earth surrounded by dangers and difficulties."