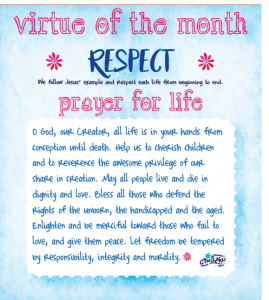 The virtue of the month for Challenge and Conquest in January is respect. For Catholics, respect for human life at every age and stage is very important. We proclaim that human life is a precious gift from God; that each person who receives this gift has responsibilities toward God, self and others; and that society, through its laws and social institutions, must protect and nurture human life at every stage of its existence. Many of the specific teachings of the respect for life can be found on the USCCB website .
Respect for life means many things for Catholics. The teaching that every single human life is sacred is very important and we must help protect every human life. Prolife teachings on abortion and sacredness of human life help us understand that God loves each human life from the instant of his or her conception and entrusts this gift to the protection of a mother and father. Abortion ends the life of a child and offends God. It also deeply wounds the men and women involved.  Respect for life also includes caring for the elderly and sick.  An old Irish proverb says, "It is in the shelter of each other that the people live." We are created to depend upon one another and walk together in suffering, compassionately caring for them. Part of respect for life is also respecting the world and creation. Our relationship with Christ helps us understand our relationships with one another and with creation.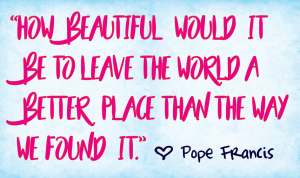 There are many examples of Jesus in the gospel where he teaches with his words and actions about respect for human life.For example, when Jesus meets Bartimaeus the blind beggar on the road. He was blind and came up to Jesus crying out to please have pity on him and heal him. The people with Jesus tried to quiet this blind beggar but Jesus stopped and asked him to come. Jesus cured him and said his faith had healed him.  Up to that point the blind man had never seen with his own eyes what Jesus looked like or did. He just believed because of what other people said. He had a great faith and because of that God rewarded him. Jesus shows in this passage the value of every single person. Other people did not think this blind man was worth the time and they tried to silence him but Jesus knew he was a valuable human being.

 The Youcat number of the month is all about how society should safeguard human life. # 329 How does social justice come about in a society? Social justice comes about where the inalienable dignity of every person is respected and the resulting rights are safeguarded and championed without reservation. The basis of all justice is respect for the inalienable dignity of the human person, "whose defense and promotion have been entrusted to us by the Creator, and to whom the men and women at every moment of history are strictly and responsibly in debt" (Pope John Paul II, Encyclical Sollicitudo rei socialis, published 1987). Human rights are an immediate consequence of human dignity, and no State can abolish or change them. States and authorities that trample these rights underfoot are unjust regimes and lose their authority. A society is not perfected by laws, however, but rather by love of neighbor, which makes it possible for everyone to "look upon his neighbor (without any exception) as 'another self' "