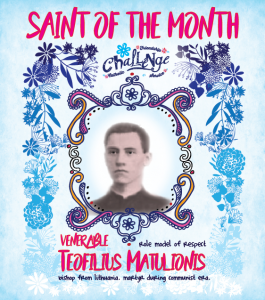 Teofilius Matulionis was born in 1873 in Prussia.  He grew up in a large family. He decided to become a priest after high school and went to university in Saint Petersburg in Russia.  He was ordained in 1900 and became a parish priest in Saint Petersburg, building parishes since the Catholic community was small.  His work was often hampered due to constant communist pressure and in 1923, the authorities confiscated of all churches. Fr Teo refused to sign the agreement and was arrested and imprisoned for 2 years.  He was named bishop by the Pope in 1929.
He was arrested by the Communists a second time and was sentenced to 10 years of hard labor in the Arctic where the cold and damp climate impaired his health.  He often awoke in the middle of the night to celebrate the Mass in secret.  Matulionis also used actual bread as the Eucharist and he consecrated it and distributed it in secret to fellow inmates when he could do so.
His poor health forced the authorities to relocate him to a prison in Saint Petersburg where he was placed in confinement with the hope of breaking his resolve.  The Lithuanian government signed an accord with the Soviet Union for a mutual prisoner exchange on both sides that saw the release of ten prisoners including the frail bishop.
From 1934 until 1936 he lived in the United States.  In 1934 he met Pius XI in a private audience and the pope said to him, "It is an honor to the Lithuanian nation to have such a hero".  After the communists occupied Lithuania, he was arrested a third time because he sent out a  pastoral letter condemning the Communists.  So in 1945 he was sentenced to another 10 years of imprisonment.  He was  released in 1955 and was forbidden by the Communists to ever return to his diocese.
On Christmas day 1957, he consecrated a new bishop without the consent of the communists who exiled him to Seduva where he remained in total isolation for the remainder of his life.  He died in 1962 not long after a routine USSR check of his apartment that saw him drugged with an unknown medicine that killed him.   He was declared a martyr and blessed by Pope Francis in 2017.