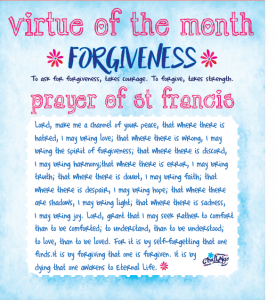 The virtue of the month for Challenge and Conquest in February is forgiveness. As a Christian and Catholic there are many reasons why forgiveness is an important virtue that we should live. But as a human being, forgiveness is important too to have peace. The Nicene Creed that we say in Mass on Sundays is a summary of our faith and it says at the end that "I confess one Baptism for the forgiveness of sins…" So part of our faith is the belief in forgiveness of sins  in confession and also to forgive others. The Our Father is the prayer that Jesus taught his apostles. It says, " As we forgive those who trespass against us".  Jesus knew that forgiveness is a tough thing to do, so he put it in the main prayer that all Christians say in order to remind us that we need to forgive. God forgives our sins and the cross is a sign of that forgiveness. Throughout the gospel, Jesus forgave sins and healed people. Forgiveness was a very important part of Jesus' teaching and actions while he was here on earth. He told us to turn the other cheek and love our enemies. Even hanging on the cross, Jesus said "Father, forgive them for they know not what they do." He forgave those people who crucified him. That is extreme love.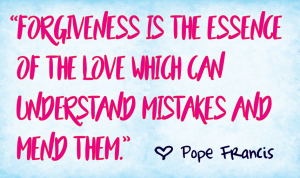 Forgiveness comes from a loving heart. God created man out of love and over and over again in the old testament we see how man sinned against God and his love. Then God sent his only Son – Jesus to show us how to live good lives and love his Father. Our sins were so great that someone had to pay for them  to be fair and just. So God in his mercy and love for us, allowed his Son to be the one to pay for our sins, instead of us having to pay. Jesus paid with his life. That is how great our sins were.
The saints have taught us why forgiveness is so important:
St Faustina said "He who knows how to forgive prepares for himself many graces from God. As often as I look upon the cross, so often will I forgive with all my heart."
Mother Teresa said " If we really want to love, we must learn to forgive."
Not only the Catholic saints recognize the power of forgiveness. Many world leaders also know the importance to forgive. Gandhi said, " Forgiveness is the virtue of the brave." and Martin Luther King Jr said, " He who is devoid of the power to forgive, is devoid of the power to love."
St Francis of Assisi's prayer can be found on the back of the Challenge holy card this month. It is a prayer of forgiveness.
"Lord, make me a channel of your peace, that where there is hatred, I may bring love; that where there is wrong, I may bring the spirit of forgiveness; that where there is discord, I may bring harmony;that where there is error, I may bring truth; that where there is doubt, I may bring faith; that where there is despair, I may bring hope; that where there are shadows, I may bring light; that where there is sadness, I may bring joy. Lord, grant that I may seek rather to comfort than to be comforted; to understand, than to be understood; to love, than to be loved. For it is by self-forgetting that one finds.It is by forgiving that one is forgiven. It is by
dying that one awakens to Eternal Life."

 The Youcat number of the month is all about how society should safeguard human life. # 313 Why must a sinner turn to God and ask him for forgiveness? Every sin destroys, obscures, or denies what is good; God, however, is all-good and the author of all good. Therefore every sin goes against God (also) and must be set right again through contact with him.