Article submitted by Camp Director Hiedi Krol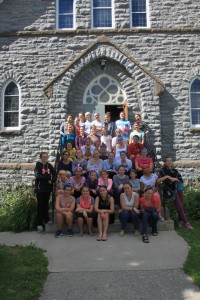 This was to be my first year at girls' camp.  Yes I must admit  that 53 years old is not the usual age for a girl to go to camp but none the less I felt I needed to be there. My daughters had gone to these camps for many years and enjoyed them while I had always been involved in the organizational aspect. But this year we needed more than just external help, we needed sandles on the ground.
So here it was Friday evening and we, the camp team had arrived a day early to prepare for the campers. We worked till late in the evening decorating and working out last minute details for the coming week. Saturday arrived bright and sunny and so did the campers, all 29 of them.  The week was filled with lots of skits, crafts, talks and games. One of our special activities was archery . Even I tried my hand at it and burst one of the 3 balloons.
The highlight of the week was when Father Jan came up the Clyde River in a canoe with the monstrance. Thoughts of the first Jesuits bringing Christ to Canada passed through my mind. The monstrance was then processed around the camp site to four different stations with special prayers taking place at each one. The evening ended with an hour of adoration, Taize prayers and songs.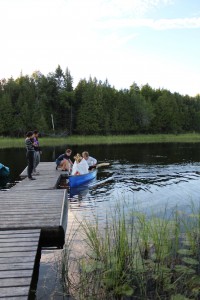 By weeks end each of us campers had made new friends with whom we shared great meals and many happy moments. We grow In the knowledge of our faith, and learned about courageous men and women who have attained sainthood . We conquered some of our fears like being away from home and paddling a canoe and….running a camp for girls ages 10 to 16. But best of all our relationship with Christ grew and matured.

Friday was both a sad and happy day . Sad in that we had to say goodbye to our new dear friends  and happy because we were back with our families and could share with them our adventures of Camp Camino.  I am looking forward to next year's adventure. Will you join me?
As an aside, I would like to thank Nadine McMillan and all the team at Mission Network for putting together such great, all inclusive camp packages. We could not have done it with out you.