Article submitted by Laura Gerth & Emily Garrett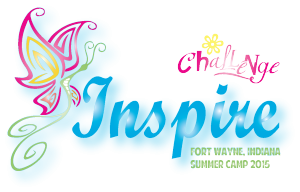 Challenge Fort Wayne continued their summer tradition of a Challenge day camp this year from July 14th -16th at the Kayser's Barn in New Haven, Indiana. The great team of adult leaders, team leaders and Ally Wheeler,  a consecrated woman of Regnum Christi, led the 25 campers to a wonderful faith filled experience centered on the theme INSPIRE. During the camp the girls received INSPIRE coins for doing good deeds or showing virtue. They could also give these coins to other teams when they showed virtue. This proved to motivate the girls throughout camp.
The camp was full of great activities like a daily virtue conference, gospel reflections, daily rosary, and bible skits to help them grow spiritually. On the first day, the highlights were "Quest for the Key" activity and tie dying t-shirts. The Quest for the Key activity allowed the girls to come together and work as a team accomplishing tasks such as creating a team name, team face paint symbol, and team cheer.  When tie dying t-shirts, every team had two different colors that they were able to mix.  It was a big hit for the girls, they really got creative and they all turned out very well.
On the second day of camp, there were two special activities that the girls did.  The first was the fashion show.  Basically each team got two pieces of fabric and they were to go their best to make a modest dress.  The dresses were so creative and they even had a run way to walk down.  There were judges and awards given for the winning team.  The second activity was Bible skits.  They girls had to pick their favorite Bible story and make a fun skit out of it.
The third day was a day for fellowship and fun.  There was the talent show where all the girls participated and shared many different kinds of talents to the rest of the girls.  It was inspiring to see so many girls go up in front of them and have the courage to sing, draw, read poems, play instruments, etc.  There was a huge water balloon fight and fun water games.  After the awards, they got to go swimming and play and a water slide.
Emily Garrett, the camp director, shared her experience of directing the camp, "This is the third year I have directed a challenge camp in Fort Wayne.  Some of the girls are so excited and they have driven miles to come. As the camp progresses their transformation is so beautiful.  Putting on a camp is hard, there are times were it gets to stressful and I wish to be doing something else.  However, when it is all said and done, I am ready to do it all over again, because I see the impact it has on these girl's lives.  Why would I ever turn down an opportunity to bring Christ to these girls?  These camps are a blessing, and no matter how much time and effort I put into it, the experience of witnessing the girls growing in faith outweighs any stress beforehand.  The Holy Spirit definitely has a hand in these camps, and to see His work unfold is beyond anything I have ever experienced.  It is such a gift to be the Director of these camps and I cannot wait to see what the future has in store. The highlight of the camp was how much the girls put into the camp activities in general.  They were all so enthusiastic and by the end of the camp, they were all getting along and having so much fun."