Article submitted by Rosie Kubie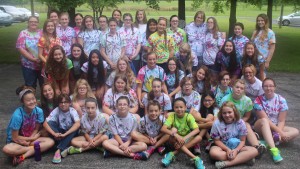 The Indianapolis 2015 Challenge Girls Getaway that took place from July 6-8 may sound a little indulgent, right?  Like a restful retreat with friends on a tropical island, reading a good book, relaxing??? But this was not a "getaway" to simply relax and pamper yourself, nor is it a typical summer camp full of fun and games!    The Challenge Girls Getaway, sponsored by Challenge St Michael in Greenfield,  Indiana is a local "getaway": part retreat, part camp, part mission, 100% amazing!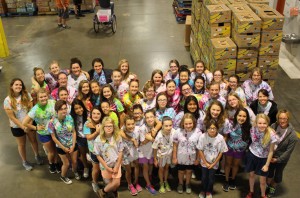 This is the 6th year that the Girls Getaway has taken place.  Over 40 girls from 5th grade through high school took this time to have a chance to "get away" from their ordinary lives, although they were not far from home.   They "get away" away from their own desires and plans and  focus on serving others, each day.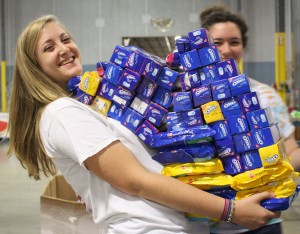 Each day was focused on a different service project, where the girls  stepped out of themselves, and learned to serve Christ.  The service projects the girls worked on this had a great range. They  spent  time preparing games and decorations for a carnival for children from a women's shelter for domestic violence victims. Another moment was dedicated  planning a talent show, with singing and dancing for nursing home residents. The girls also dove in getting dirty by sorting boxes and packages of food at Gleaner food bank and then making birthday cards and compile a birthday party kit for distribution at the local food pantry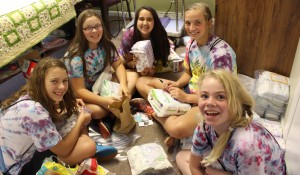 The consecrated women of Regnum Christi and the ECYD summer missionaries were  essential to this activity and inspired the girls  to remember just WHO they are serving and why.  They showed the girls what a real friendship with Christ and dedication to serve others  looked like.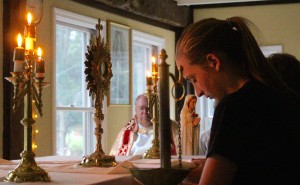 The Challenge Girls Getaway is a demanding 3 days, but with hardwork, perseverance, and joy, the girls left with full hearts, stretching beyond themselves, ready to pass on that enthusiasm for Christ, to others!   This is not a camp with a little service built in.   It is a mission camp, with Mass, confession and prayer and adoration built in, and YES, it's a lot of fun! Plans are already in the works to organize the 7th Annual Girls Getaway next summer!