Article submitted by Rachel Peach, Regnum Christi consecrated woman and Challenge leader in Houston, TX.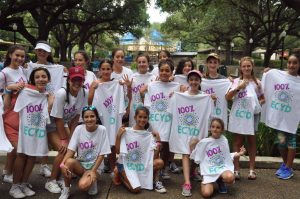 September Zoo Scavenger Hunt: Houston Challenge kicked off the new year with a dynamic scavenger hunt, themed 100% ECYD, for the Challenge girls of the various clubs. Even though the temperature reached 100 degrees, nothing could stop those 110 girls' excitement and enthusiasm at beginning a new Challenge year.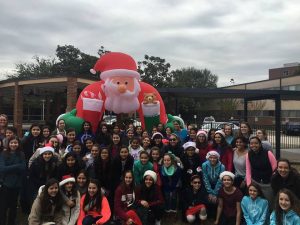 Christmas Apostolate: While every Challenge group does their own personal service projects, once a year all the Challenge girls of Houston get together before Christmas for a bigger experience of impacting the world for Christ. This year they went to a nursing home in downtown Houston. Each girl brought a scarf as a gift for one of the residents, and each team prepared Christmas carols to sing as they visited with the residents.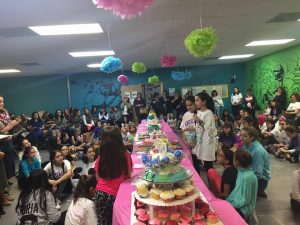 St. Agnes Day: This January tradition, in honor of one of ECYD's patron saints, has been present in Houston for over 15 years, and continued strong with over 100 girls participating. Each team decorated a cake based on the this year's theme "The 5 Loves of ECYD: Christ, Mary, the Pope/Church, others, and ECYD". There were nearly twenty cakes of different styles and types! The event took place at a ninja-warrior-training place, and before the cake explanations and judging, the girls exercised their ECYD spirit in completing extra ninja challenges with cheers and enthusiasm.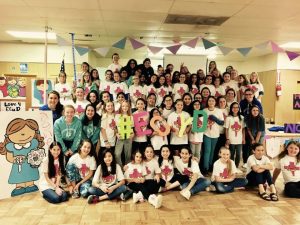 Now You See Me: He Looks at Me and Loves Me! This theme was the common thread through the three ECYD retreats. Through the activities, team building activities, and prayer moments, the girls discovered the experience Christ's gaze upon them and that under his gaze, they discover who they truly are. They learned obstacles from the world around them that can keep them from experiencing His gaze, and tools to help them see the world through His gaze. From October 7-9th we had the 6-8th grade retreat, with 25 girls from Houston and Austin.
February 3-5th was the 5-6th grade retreat, with 57 girls from Houston, Dallas, and Austin. February 17-19th was the 7-8th grade retreat with 35 girls from Houston and Austin.
Looking forward to a great summer camp and final quarter. For more information on retreats and the upcoming summer camp June 11-17th: www.challengehouston.com