Article submitted by Susan Sahler, Challenge Leader in New Jersey.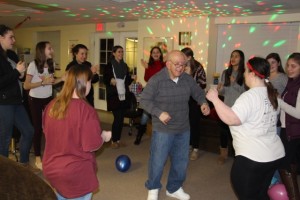 The 7th and 8th grade girls of the Challenge New Jersey club s and their team leaders hosted a Valentine party for a group of residents at a home for developmentally impaired adults that is right near St. James Church in Basking Ridge, NJ where we hold our meetings.  This was the second year doing this project, and all involved agreed this needs to continue as a yearly event!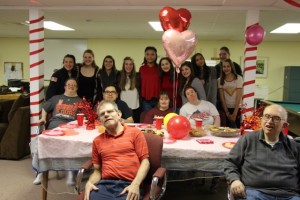 Our girls decorated their home, brought in food, and prepared activities to do with the residents.  Everyone had a great time, especially when it came time for the dancing!  What was really special, along with all the fun that was had, was the opportunity for our girls to talk with these very special people.  They really enjoyed sharing with the girls the work that they each are involved in, as well as some of their favorite activities.  The girls learned about the many different places in and around the community where they work.  They also learned about the involvement that several of them have with the Special Olympics.  Our new friends were very proud to share about their accomplishments.  Now as we are out and about around town, we find ourselves running into these friends, and we enjoy the opportunity to greet them and reconnect!  Those of us who are St. James parishioners often get to see them at mass on Sundays.  They are always there with smiles on their faces, and bring joy to all who are a witness to the love of Jesus that shines through them.