Article submitted by Dana Smith, Leader of Blessed Sacrament Club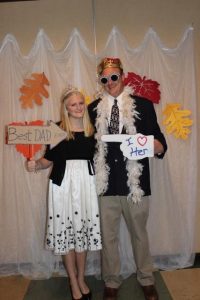 At the Blessed Sacrament Challenge club in Fort Mitchell,  Kentucky, the 8th Grade had their Father Daughter Dinner in November where they came to the Parish Center and enjoyed a wonderful evening together.  They had fun with a photo booth, ate a good meal and enjoyed watching the "Courageous" movie.  At the end of the evening, the girls gave their fathers a letter that they had written for them, and the dads gave their daughters a special necklace.  This was an opportunity for the girls to share a memorable evening with their dads.  The 8th grade moms helped prepare the food and assisted with the set-up and clean-up of the night.
At our  Christmas Babysitting Night we had 57 children attend  and around 30 of our Challenge girls who came to help work it.  We made right around $500 for this event and all money raised goes toward the cost of our Challenge meetings and will be used toward Challenge girls attending the summer camp.
Both were wonderful activities to get families involved in Challenge.