Article submitted by Dana Smith, Leader of Blessed Sacrament Club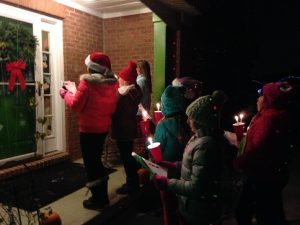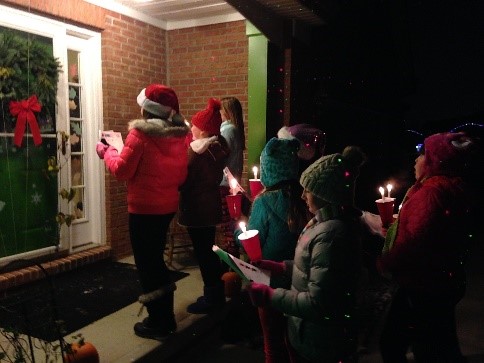 Every team in the Blessed Sacrament Club tried to spread Christmas joy and love this year. The 5th grade teams,  visited at St. Charles Nursing Home and had a great time playing Bingo with the residents.
The 5th Grade girls also had fun Christmas Caroling after their meeting in December. They enjoyed a pizza party and then headed out to spread Christmas cheer!
I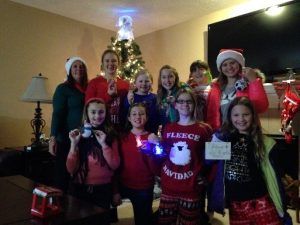 n November, the 6th grade Challenge girls wrote letters and made cards for some of the men and women in the military in support of Veteran's Day.  On December 3rd, the girls went to the Yellow Ribbon Support Center and packed over 50 stockings with cards and candy, and they bagged over 1,000 lbs. of candy for the Troops overseas.
On December 16th, the 6th grade girls made candy canes which had the meaning behind the candy cane attached to it, as well as prayer cards.  The girls went Christmas Caroling where they were able to pass out the candy canes and spread some Christmas cheer.  The girls participated in a cookie exchange, as well as a white elephant ornament exchange.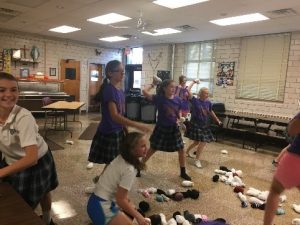 In 7th Grade, the Challenge girls had some wonderful outings in the months of November and December.  As part of their community outreach, five groups visited 2 parishioners each during our meeting on November 11th.  The parishioners that they visited were older people who are unable to get out of their home much and who do not receive many visitors.  Each group came back and shared just how much they enjoyed visiting with them.  The Parishioners also enjoyed their visit as they sent several thank you cards to the 7th grade.  One person even sent prayer cards for the whole club!
During our November 18th meeting, the girls were all asked to bring in new socks that would be donated to the Emergency Shelter of Northern Kentucky.  We are proud to say that our 7th grade Challenge girls collected over 150 pairs of socks.  Before donating the socks, the girls were able to have a "Sock Ball Fight" with them. The girls were able to go and deliver the socks to the Emergency Shelter.  It was a great service project!