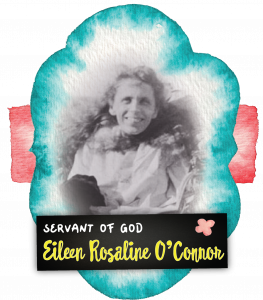 Eileen O'Connor was born in Australia in 1892 and was crippled by a fall that injured her spine when she was only three years old. She was largely paralyzed for several years and remained in constant pain throughout her brief life. She was not even 4 feet tall because of it and for much of her life she could not stand or walk. She devoted herself to Our Lady and prayer.
Eileen's beautiful spirit inspired many people to seek her guidance and prayers. She listened to them, understood their problems and gave wise advice. Her parish priest met Eileen and became convinced of her personal holiness when he would visit her family's home. Both Fr McGrath and Eileen shared a deep devotion to Our Lady and the desire to establish a ministry of compassionate service to the sick and poor in their own homes. At the time, there was no Government healthcare assistance, meaning that illness was an added burden for the poor.
The plight of the sick and poor was especially close to Eileen, whose family had been plunged into Financial problems following the death of her father. So they began an organization called Our Lady's Nurses of the Poor . They began its ministry in 1913. Eileen and Father McGrath traveled to Rome in 1915 to receive permission for it to be a legit organization in the Church. Despite her growing disabilities, Eileen continued to guide the work of the society from her bed. She died in 1921 when she was 28 years old. Her body was found to be in-corrupt.
Eileen's legacy is the mission of Our Lady's Nurses for the Poor over the past 100 years. It ranks among the great and enduring social works of the Church in Australia. Her cause of canonization has been opened.