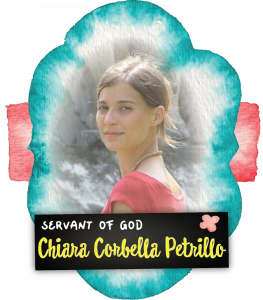 Chiara was born in Italy and grew up Catholic. She met her husband Enrico Petrillo at age 18 in 2002 while she was on a pilgrimage to Medjugorie. They were married in 2008 in Italy. The couple had three children, but the 1st two children died right after birth. Chiara became pregnant a third time with their son, Francesco. However, the joyful news of their pregnancy also came with a fatal diagnosis of cancer on Chiara's tongue.
Chiara rejected any treatment that could have saved her life during pregnancy because it would have risked the life of her unborn son. As the cancer progressed, it became hard for Chiara to speak and see clearly, eventually making her daily living particularly excruciating with pain. Chiara waited until after her son Francesco was born and then began intense treatments of radiation and chemotherapy to battle the cancer, but it soon became evident that the cancer would be terminal. Chiara and Enrico made peace with the reality that Chiara would never grow old with Enrico or watch Francesco grow up.
During Chiara's last days, Enrico embraced God's grace just as Chiara did, saying, "If she is going to be with Someone who loves her more than I, why should I be upset?" She died in 2012 when she was 28 years old. Her story is told in the book, "Chiara Corbella Petrillo: A Witness to Joy," Chiara has been called "a saint for our times."
Her cause for canonization was open in 2017 and she is considered a servant of God.