Article submitted by Nanzeen Duarte, Challenge leader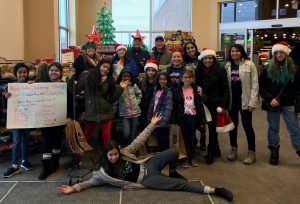 On Sunday, December 1st , 2018, the Milton Challenge Girls had the opportunity to volunteer at the Food Drive for the Salvation Army at our local Sobeys. This provided the girls with a rewarding experience as they helped others within the community by encouraging shoppers to purchase items most urgently needed at the Milton Food Bank or purchasing a pre-made bag of items in case shoppers were in a hurry. The girls really discovered their own strengths in public speaking and worked as a team to connect with the shoppers by explaining the cause and need for the Food Drive. They were busy handing out the paper bags, collecting the full paper bags, as well as thanking all the shoppers for their donations. The girls demonstrated virtues of obedience, kindness and generosity throughout this rewarding experience. Even at times when they were faced with some shoppers that were not so kind with their words or actions, the girls continued to remain positive and carried on collecting for the cause.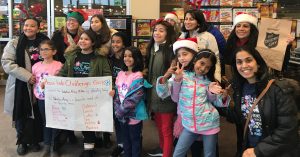 Overall, it was a very successful morning. The Milton Fire Department were also on site supporting the Food Drive and adding to the excitement. In the end, the Milton Challenge Girls were able to see the fruits of their actions and appreciate the generosity of so many shoppers. The amount of food collected for the Milton Salvation Army filled a truck much to the delight of the girls and the local Sobeys.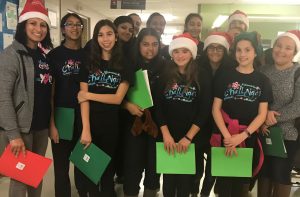 On Dec. 7th the girls went Caroling at the local Milton District Hospital. This time we only took the girls from grades 6 -8 and team leaders, and of course some moms. We had about 21 girls so we split up into 2 groups. One group sang in the Complex Continuing Care ward while the other sang in the Regional Unit. We walked slowly through the corridors of the ward, singing carols and stopping near rooms. It was a beautiful and moving experience for the girls and moms. Just made us realize how blessed we are and how thankful we have to be to the Lord. Two of the girls who participated shared their experiences.
"When I went singing with challenge at the hospital my heart filled with joy. This was because all these elderly people would open there doors just to hear us sing, they would sing and clap along and it is amazing to think that they did that for us even if they are going through tough times. One of the ladies there talked to us, challenge girls and really related to us. She said that she had loved singing and loved our voices which filled my heart with joy. Therefore, the singing at the hospital was the best one and topped the other years that I have done this and I hope to do it next year as well when I am a leader!"⁃ Alejandra C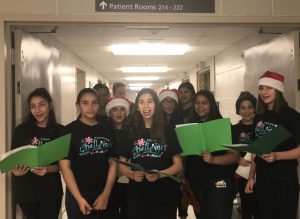 "Through this experience of caroling at the hospital, I felt a plethora of different emotions. One of them being the feeling of accomplishment. As we began walking through the halls of the hospital, my first reaction was that we were only singing to ourselves, but little did I know that I would make an impact on someone's life. After meeting one woman, the message that I could affect someone's life, really became prominent to me. After seeing many faces light up with smiles, it helped me comprehend the power of a simple act of kindness. As children of God, we are called to share our gifts and talents to help others in our world. While Christmas caroling, we all showed our service by bringing joy to others during this Christmas season." – Lauren R