The Challenge and Conquest High School Group in Immaculate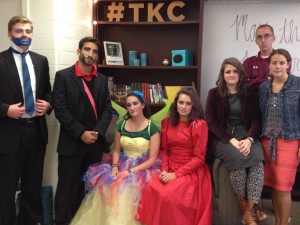 Conception Parish in Highland Park, IL had their Kick off Hunger Game style on Sept 21st. The activity was planned by the team leaders and was a great success. Melanie Pilon shared with us how the activity unfolded. The teens started off by putting their names
into a fishbowl for the reaping. One of the team leaders dressed up like Effy and explained how the game would work. Another team leader gave a brief talk to the teens about who they want to be in this life. They spoke about how all people are chosen to fight for God, but few people actually choose to volunteer to fight for Him. After the talk, they had a brief boot camp to get ready for the games and then has a series of challenges -like balancing water buckets, name challenge game, tight rope challenge, water balloon challenge and the donut challenge. To wrap up the evening, the group had a moment of prayer before Jesus with a reflection led by one of the leaders. It was a fun and dynamic way to get the year started!