Article originally posted on www.regnumchristi.org. Read the full article here.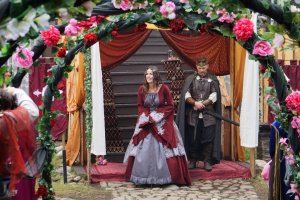 Dr. Brian and Valerie Doran of Alberta, Canada, are a Regnum Christi family with seven children, and have been married for 20 years. Brian is a Family Physician, and currently has a full-time practice with hospital privileges in a rural area. Together, they lead the internationally acclaimed top-tier Catholic camps Arcātheos (for boys) and Captivenia (for girls).
Brian and Valerie first encountered Regnum Christi just as Brian was about to begin 10 years of education to become a physician. Their hearts soared at the call to holiness, community and mission, but they wondered how they would manage it with a large family and the educational and professional 'burdens' ahead of them.
In 2003 Brian launched Camp Rivendell, which would later become known as Arcātheos. His dedication to the apostolate of Arcātheos comes from a sincere desire to help form young men in the faith. The camp has grown in numbers and in excellence- with themes and story lines that call to mind The Lord of the Rings and The Chronicles of Narnia, and a setting, costumes, and props that belong on the set of an epic movie, but all at the service of an experience that teaches boys that Christ is the Lord and they were born to live the adventure of serving him. Each year up to 90 men join his leadership team and 150 boys from across North America come to the camp, which ranges from 7-11 days long, depending on the age of the boys.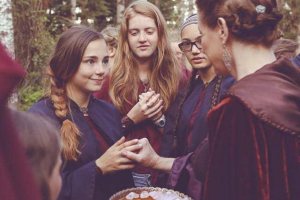 After seeing the success of Arcātheos over the first eight years, Valerie heard a growing cadre of girls ask for a similar camp. In 2010, in spite of her introverted nature, she took the leap to found the girls' camp, Captivenia, and gathered a team of talented young women and mothers to lead with her. They have endeavored to help girls discover God's love and the gift of the feminine genius he gives them. This is Valerie's true passion. She was adamant that "this would not be just a copy of a boys' camp," stating, "I wanted to help girls become women of God filled with authentic beauty, dignity, grace and leadership." Captivenia has grown from 25 people the first year to an annual average of a 40 person leadership team (20 young women and 20 moms) and 100 girls attending. Many of the women who help Valerie lead the camp grow in their own spiritual lives, learning to pray, and some going on retreats for the first time.
Arcātheos & Captivenia fill a unique role in building up the kingdom. But how do the incredibly successful, but demanding, camps help the Dorans build their own family? Brian and Valerie include their children every step of the way. The Doran kids are involved in the planning, building, scripting and running of the camps right along with their parents.
Discover Arcatheos and Captivenia at www.arcatheos.com and www.captivenia.com