Article submitted by Maria Knuth.
From March 22-23, 2019 a special event took place in Atlanta – the first ever ECYD Weekend. This event was sponsored by the Atlanta locality and provided the opportunity for those adult mentors who have not been able to attend some or all of the ECYD weeks. Twenty five Adult Mentors participated in the two day event. Friday evening was a dinner and social. Saturday focused on the ECYD formation and dynamic training. The theme was centered on the first module of the "Curriculum of 5". It was based on the first three chapters of the ECYD Statutes – touched on ECYD Identity, ECYD Mission, ECYD Spirituality, and ECYD belonging.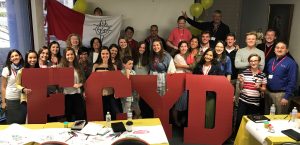 Some highlights of the weekend were the panel with ECYD kids who shared their experience of ECYD and an adoration moment where five ECYD & Young RC Members shared their experiences of the 5 loves of ECYD. There was a lot of sharing, interaction, greater clarity and motivation to continue sharing the mission together.