Article submitted by Gaby Diez, Challenge team leader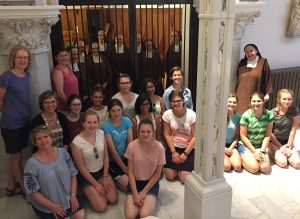 This past month I had the incredible opportunity to travel to Quebec with Father Pierre, Deb Bauer and other Challenge team leaders and several mothers for the Montreal Pilgrimage. The trip allowed me to see many stunning historical catholic sites. I also was able to meet with inspiring nuns at two convents. I made new friends and shared many fun experiences with all the girls.
All the churches we visited truly amazed me because of their size and beauty. It was incredible to see how someone's devotion to God inspired them to create such stunning buildings. We were able to visit the St. Kateri Tekakwitha Shrine at St. Francis Xavier Mission where St. Kateri Tekakwitha's tomb is located and learn about her life and devotion to Jesus.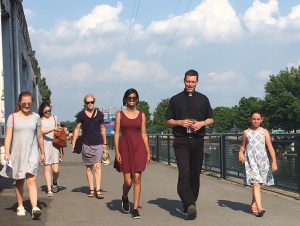 We also visited the Notre-dame-bon-secours-chapel where we learned about the fascinating stories of St. Marguerite Bourgeoys and Jeanne le Ber. My favourite church was the stunning Notre Dame Basilica. We also visited the Mary Queen of the World Cathedral, which was inspired by the design of St. Peter's Basilica in Rome.
We were able to meet with nuns at the Franciscan Missionary Sisters of Mary convent. They told us about their inspiring and courageous missionary experiences. We also visited cloistered nuns at the Carmelite Convent who told us stories of their personal call to their vocation.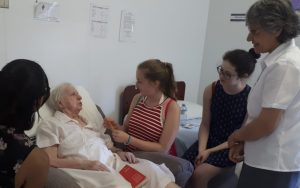 The trip was full of fun, faith and laughter. I can not forget to mention that the food in Montreal was great, especially the traditional poutine. I really enjoyed connecting with girls from other clubs and the memories made are ones that I will hold on to for a long time. I can also say, that without a doubt, I feel my faith has been strengthened. If this pilgrimage is held again I would highly encourage other Challenge Team Leaders to participate.