Article submitted by Melanie Pilon, Consecrated Woman of Regnum Christi working in Chicago.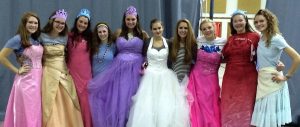 Have courage. Be kind. Show mercy. This was the motto of the Challenge Camp in WI hosted by Challenge Chicago. Thirty four girls stepped into the Kingdom of Truth when they were dropped off at summer camp in Montello,   WI this past July 3, and throughout the week they experienced all it had to offer. Under the leadership of their fairy team leaders, they lived a week filled with village sports and games, a night at the ball, daily audiences with the King, formative activities organized by the royal court, participation in the annual Messy Olympics.

Many shared that their favorite experience in the Kingdom was the night of encounter with the King. Having prepared their own altars to welcome the King, the girls organizes a Eucharistic procession around the camp grounds and then spent the night in turns with Him in adoration.