Article submitted by Lisa Lively and Maria Cristina Serrano, Challenge Camp Leaders in California.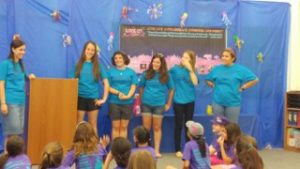 The Challenge California Day camp took place June 13-17 at Canyon Heights Academy in Silicon Valley, CA. The theme of the camp was LIVE IT – Live Life with Mercy, Kindness and Courage. It was led by volunteers, consecrated and Regnum Christi Mission Corps members. There were 21 campers who attended and 7 team leader counselors led the activities.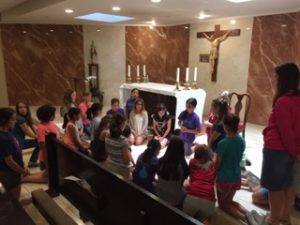 The girls expressed a lot of insight from the talk and activity on St. Edmund Campion. The wax museum game was so intentionally frustrating, that it really helped them to understand what it must have been like for St. Edmund to run the church "underground". They were able to apply the virtue of courage to their lives in a very real way. We learned about St. Edmund at the beginning of the week and the girls were still referring to it at the very end.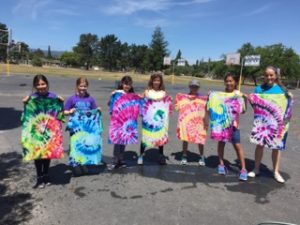 Some of the favorite moments the girls had at the camp were the water fights, the tie dye shirts and the Mercy Games activity. The Divine mercy chaplet activity was a highlight that made a deep spiritual impact. We did the dynamic of each girl bringing up a lite candle as we prayed each prayer. Meanwhile, we had two priests hearing confessions. One of the girls summed up the experience "I loved the Challenge summer camp because it helped me to strengthen my relationship with Christ while having a lot of fun" Maria (age 13)