Article submitted by Spencer Moseley, Conquest Leader in Oklahoma.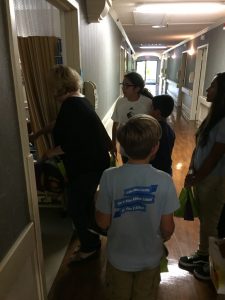 On Tuesday, October 11th, St. Pius X Parish in Tulsa, OK hosted a Nursing Home Visit. This particular Nursing Home has many very sick residents who do not often receive visitors. Our Conquest and Challenge clubs put together around 70 gift bags both for the staff and residents of the nursing home. The residents loved their gifts which included bibles, scented candles, rosaries, pens, note pads, Papal prayer cards, and Jesus bracelets. After singing some uplifting songs, we received many thank you's from the staff there. We hope to continue visiting them in the near future.
Agent Angel is one of about 40+ apostolic service projects included in the program curriculum.  Without Conquest and Challenge, I as a youth minister would have no resources to plan events like this!