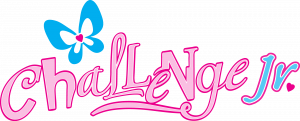 Challenge Jr is finally here! 
For years, Conquest Jr has existed as a great option for younger boys who were not old enough for Conquest.  We have been receiving requests from Challenge Leaders for many years to offer something similar for younger girls  in  K- 4th grade.  This year we were finally able to  get the Challenge Jr Curriculum 1  program materials ready and we are very excited to share this new program with you all. It is a program we hope every Challenge club considers adding on locally. It is a beautiful way to evangelize younger girls and their families. It is also a great way to keep the Challenge members engaged as leaders and to show the Jr girls what Challenge is all about. It can help moms of the younger girls learn about Challenge early on, help out in volunteer roles in Challenge Jr and eventually help support the Challenge club as their girls get older.  It can be the beginning of something they can participate in for years.
How did we develop Challenge Jr?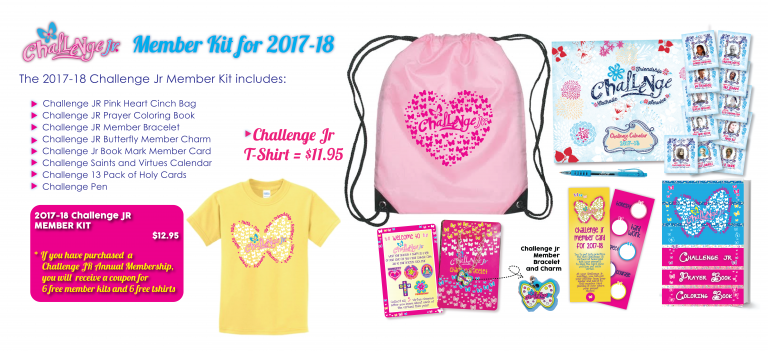 Challenge Jr was born from a desire of Challenge club leaders to offer something to younger girls to help them to learn Christian virtue and prayer. We first asked the existing groups via survey what they were looking for in Challenge Jr materials. We also used Conquest Jr as a base to build, so the Junior programs would be parallel. We  paused to ask ourselves a few questions in general… What are families  with  daughters in K – to 4th grade looking for?  A Truly Catholic Virtue Program for younger girls (attractive, motivational, catechetical content);  A good fun environment for girls to make friends;  Somewhere their daughters want to go to learn about faith;  Something for the whole family, where moms can be involved;  Somewhere they can learn about their faith with other girls their age;  A place to find positive role models and leaders for their daughters. What are girls in K through 4th grade looking for in a Catholic Program?  Friends,  Fun – new things, games, crafts;  Feeling part of something special (member kits & gear);  Recognition for their achievements;  A role model and mentor they can look up to;  Cool girly Catholic stuff.  These answers helped us build out the components of Challenge Jr.
How does Challenge Jr work?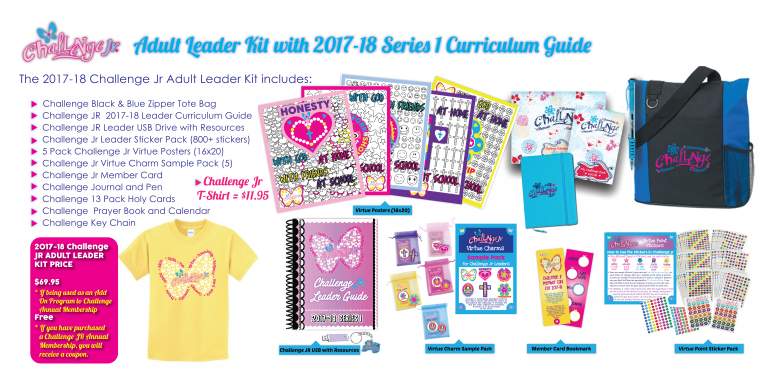 Challenge Jr is for girls Kindergarten through 4th Grade. There are options for activities throughout the curriculum for both older and younger girls. It is led by Adult Leaders, with the help of teen mentors who are usually Challenge members. The teen leader can be present in a guest speaker role, or run a certain part of the meeting. Nationally, we offer a method, materials, kits  and  Annual Challenge Jr Curriculum  to help the  leaders successfully run the program.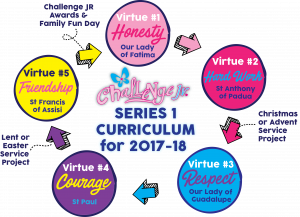 Like Conquest Jr, the curriculum focuses on five virtues each year.  Each virtue has four weeks of curriculum, which focuses on living that virtue with God, with family, with friends, at school in the corresponding week. For example if the virtue is honesty, Week 1  is Honesty with God,  Week 2  is Honesty at home, Week 3 is honesty at school and Week 4 is honesty with my friends.  Each virtue has a saint role model that the girls can learn about. The story of that saint will be carried throughout the 4 weeks of meetings by showing a video or telling a story about their life.  If you visit the Challenge website Curriculum page you can download a free sample week of curriculum.
The Challenge Jr weekly meeting  has 8 different parts.  The weekly meetings have  the fun elements that are necessary for the girls to enjoy themselves and build good friendship: snack time, games, and crafts. These moments are all tied into to the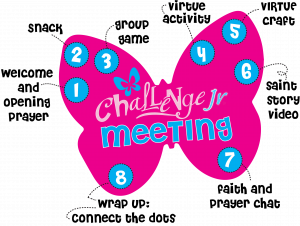 virtue theme. Each week they will learn about the virtue through the talk and through the craft. They also learn about one Catholic prayer each week and have a prayer focused moment where their member book (coloring book) will be a guide to learn the prayer. Each year they have two suggested service projects: Lent and Christmas. Both should be family events. The projects should be moments to live out the virtue they learned about.  At the end of each year they will have a Challenge Jr family event where the Challenge girls can help out with.
Recognition, Motivation and Memories: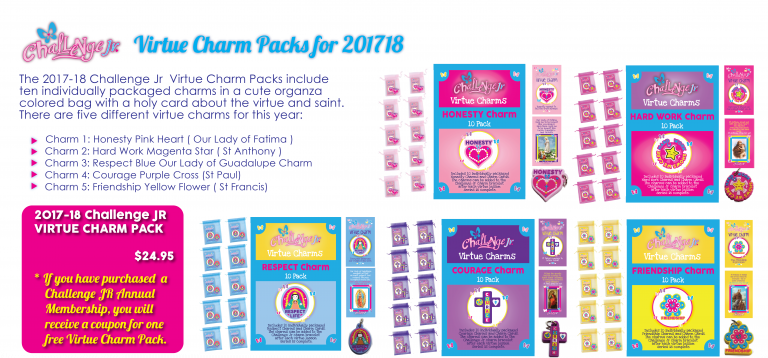 When the girls join Challenge Jr, they receive a member kit with a friendship bracelet that has a Challenge Jr charm. Each time they complete a 4 week session on virtue, they receive a charm that goes along with that virtue & saint. At the end of the year they should have 6 charms. The charms should be presented to the girls with the special cards that are included.  The charms are in specific shapes and go along with the theme each week.  For example, Charm 1 is a heart shaped charm about Honesty, with an image of the rosary since the saint story is about Our Lady of Fatima.   In the Challenge Jr Member Kits, the girls receive a membership card for the year which has a place stickers and personal progress. There is a different sticker for each virtue. The girls can get stickers each week for acts of virtue and participation. For each virtue in the curriculum, there is a special poster where the girls can add stickers and color to create a masterpiece of virtue each week. Check out the Challenge website Youth Ministry Packages page to see all of the kits and material available.
In creating this new program, our desire has been to help families teach the beauty, richness and attractiveness of our faith to younger girls. We hope Challenge Junior can be an opportunity for parishes, schools, parents, and even older siblings help bring these young girls closer to Christ and the Church.
If you would like to find out more about Challenge Jr or how to get started, you can download the Challenge Jr Get Started Flyer here.