Article submitted by Angela Velasquez, Challenge Jr and Challenge leader in Chantilly, VA.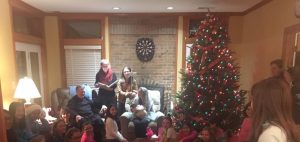 When we set out to open a Jr. Challenge club at St Timothy's Catholic Church in Chantilly, VA, we were trying to address our two biggest challenges to attracting 5th grade girls to the club. First, 10 and 11 year old girls are reticent to join a social club when they may not know anyone. Second, by 5th grade, many girls have already joined other social clubs and have less space on their extracurricular calendar to fit in something else. How successful have we been? Very. Read on to find out about how we've made Challenge Junior help solve our challenges and work for us.
We've assigned 4 high school team leaders to work with the 25 girls in our Challenge Jr program. The group is split into two smaller groups of 12 or 13 girls. Girls are in 3rd and 4th grade. The meetings last 90 minutes and run concurrent to the 5th-8th grade meetings, just in separate rooms. Meetings are set up as three rotating stations: first station – song or skit (movement based activity), second station is always some sort of craft, and finally the third station is a spiritual talk or conversation for the girls. Each station lasts 20 minutes. A Mission Corp volunteer oversees the team leaders' group management and goes between our two groups. Mom chaperones are also involved in the Challenge Jr group, and I've noticed that moms of junior girls also benefit from the extra time to learn about everything the older club has to offer and what opportunities their daughter can take advantage of once they reach 5th grade. Most of our service activities are open to the junior girls, but with one condition; their mom must accompany them the entire time. One example of this was an Epiphany party in which our parish priests hosted our club in the rectory. It was so beautiful and meaningful to all of our girls! We also went Christmas caroling at a rehab center, and invited all junior members with an adult. There was much participation in both of these events.
What do the junior girls like about junior Challenge?  They love making new friends in the parish, and looking up to their 5th-8th grade counterparts who talk about their retreat and summer camp experiences. The Challenge Jr girls begin to look forward to joining the fun of the Challenge club with these same friends they've already made in the junior club. We are starting to see this happen this year, since it is the third year of junior Challenge.  Our parish also has a Conquest boys' club which has shared some practices with us as they have had a junior club for at least 7 years.  Some of their practices have worked for us, some have not.
Our biggest Challenge has been to not have a curriculum like the Challenge club has. We are really looking forward to materials and support from Challenge national in this regard. Right now the team leaders work very hard to piece together the materials and curriculum using online sources, personal inspiration, and trying to tweak material from the 5th-6th grade Challenge books so as to adapt these to meet a younger developmental and maturity level. We are looking forward to the new guidebook for Challenge Jr that will resolve this issue.
Overall, Challenge Jr has been a positive experience for our Challenge club, and has planted seeds which are helping to build our club for future success. Challenge Jr creates a natural progression to joining the Challenge club. We also have older girls who are now able to bring their younger sisters to Challenge Jr, and this is another opportunity to build excitement and community among the girls.