Challenge Camps:
100% Catholic faith
filled experiences
Challenge Camps are
fun for girls 5th- 12th grade
Over 20 Challenge Camps
across the US and Canada!
Why Challenge Camps?
Challenge Camps are unique experiences for girls to grow in their Catholic faith and make lasting friendships. We have over 20 camps across the US and Canada. Challenge Camps have been present for the past 15 years with thousands of campers participating each year. Conquest – our brother program- also offers over 20 camps for boys each summer.

A Day in the Life of a Challenge Camper
At camp girls ages 10-18 will have the opportunity to participate in a variety of activities. They will enjoy prayer and spiritual growth through participation in Mass and Confession. Sports, games, workshops, team dynamics, exciting night activities, swimming and fun in the sun, are typical Challenge camp activities. To find out what activities are offered at specific camps, visit the local camp websites or download the local camp flyer. Our camp staff is made up of a wonderful team of teen camp counselors and skilled adult volunteers.
The 2017 Challenge Summer Camp theme is Connect!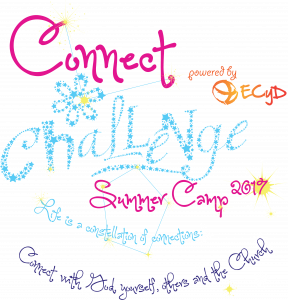 This year's camp theme is Connect- connect with God, the Church, yourself and others! Life is a constellation of connections and relationships. At camp, every day we will focus on one of these important connections & relationships, delving deeper in how to be a Christian in the world today who prays, is confident, kind to others and who loves the Church.
2017 US & Canadian Challenge Summer Camps
Illinois: Chicagoland Challenge Camp
Indiana: Fort Wayne Challenge Camp
Ohio: Challenge Camp ARISE
California: Challenge Camp
Where:
 San Francisco Valley, CA Canyon Heights
When:
 June 12-16
Contact:
 Maria Cristina Serrano
Mcserrano@bellsouth.net
Camp Flyer Coming Soon!
Read about Last Year's Camp!
Indiana: Indianapolis Challenge Getaway
Oklahoma: Midwest Challenge Camp
Where:
 Camp Christian Chouteau, Oklahoma
When:
 June 11-16th
Contact:
 Alicia Forth
aliciaforth@sbcglobal.net
Download the Camp Flyer!
Indiana: Challenge Camp Tekawitha
Where:
 Camp River Ridge
Oldensburg, Indiana
When:
 June 7-12
Contact:
 Jaquie Lustig
jlustig@regnumchristi.net
Camp Webpage
Ontario: Camp Camino
Where:
 Providence Point Lanark, Ontario Canada
When:
 August 5-11
Website:
Camp Camino
Contact:
Heidi Krol
lanarkcampcamino@gmail.com
*affiliated camp with specific theme
Connecticut: Challenge Camp
Where:
 Incarnation Center – Ivoryton, CT
When:
 July 15-21
Contact:
Sallie Roth
sroth01@snet.net
Camp Flyer Coming Soon!
Read about Last Year's Camp!
Kentucky: Challenge Connect Camp
Texas: Challenge Houston Camp
Georgia: Atlanta Challenge Camp
Virginia: Fearless Challenge Camp