Article submitted by Dana Smith, Challenge leader at Blessed Sacrament Parish in Fort Mitchell, KY.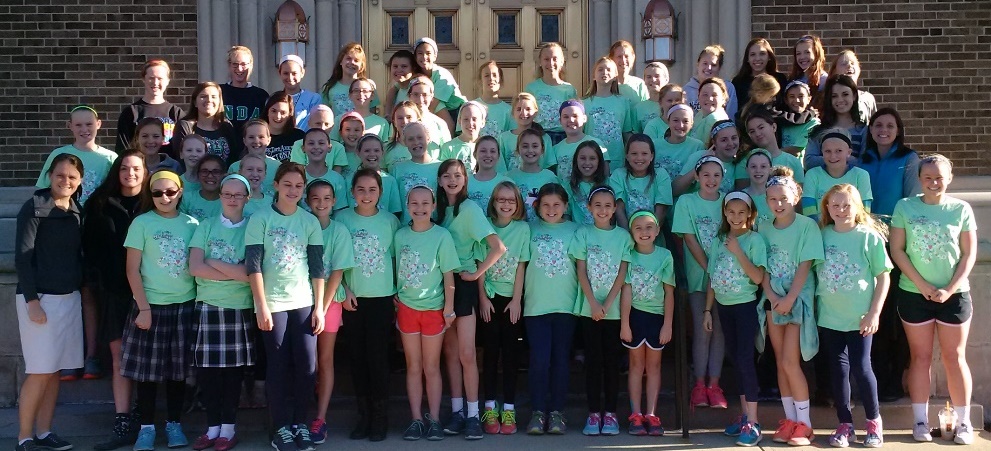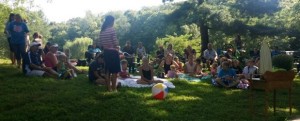 The Blessed Sacrament Girl's Challenge Club has been blessed this year with just over 60 Challenge girls and 20 Team Leaders, as well as numerous volunteer moms who help make it all possible.  Our club theme for this year is "Charity in Action."  Each grade completes four big apostolic projects each year and the whole club is responsible for assisting with three fundraisers throughout the year.  We had the pleasure of kicking off our Challenge Year with a family picnic back in August, at one of our Challenge families' farm.  God blessed us with beautiful weather and Ally Wheeler, one of the Consecrated Women, led us all in praying the rosary.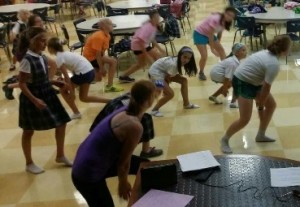 While our club has some very exciting and fun service projects that we complete every year, we also do something a little different.  A volunteer from our parish comes to one meeting a month and leads the girls in some form of fun and faith-filled aerobic exercise.  At our first meeting, she opened with an exercise routine to the song, "Start a Fire in Me".  This really helps to get the girls energized and it reminds the girls that our bodies are temples of the Holy Spirit.
In the Blessed Sacrament Challenge club, we also do three fundraisers throughout the year.  We have a themed babysitting night the Saturday after Thanksgiving.  We provide Christmas crafts, games, snacks and the kids get to come in their pajamas and watch a movie.  Last year, our theme was The Challenge Express.  Kids who were registered were mailed a special ticket to get in.  The kids had fun with crafts and games and were able to write letters to Santa.  We even had a surprise visit from Santa himself!  Biggby Coffee donated hot chocolate to our event that night and the kids watched the movie Polar Express while enjoying some popcorn.  We had another babysitting night the weekend of Valentine's Day where we have a variety of toys, board games and activities for the kids to play with.  We also have the school gym open for kids to go play basketball, volleyball or dodgeball.  On average, we typically have anywhere from 60 – 70 kids at our babysitting events.  The third fundraiser we have every year is a Rummage Sale.  We hold this in the Spring and have a lot of families throughout the community who donate items for us to sell.  Our Rummage Sale, by far, is our biggest fundraiser.  The unique thing about our club is that we use the money earned from our fundraisers to help our girls attend Challenge Summer Camp.  The girls earn participation points for working our fundraisers and at the end of the year, a calculation is done which turns their participation points into money that can only be used to help pay for that girl to go to Challenge Camp.
Of course, all of this would not be possible without the love and support of the Regnum Christi Consecrated. They provide our region with retreats, faith formation and training for our Team Leaders, and the most amazing camp experience possible!  It has been such a blessing in my life to be part of this Challenge family and be able to watch not only my own daughter, but all of these girls grow in their relationships with Christ!