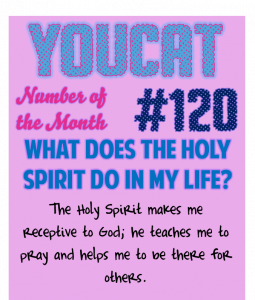 The Challenge and Conquest Youcat number for June is all about the Holy Spirit in our lives.
#120 What does the Holy Spirit do in my life?
The Holy Spirit makes me receptive to God; he teaches me to pray and helps me to be there for others. Augustine calls the Holy Spirit "The quiet guest of
our soul". Anyone who wants to sense his presence must be quiet. Often this Guest speaks very softly within us and with us, for instance, in the voice of
our conscience or through other interior and exterior promptings.