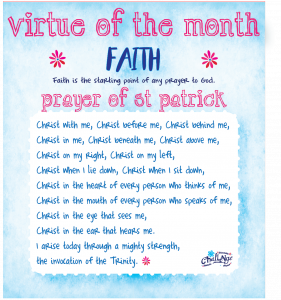 The virtue of the month for Challenge and Conquest in October is faith.  There are two types of faith: what we believe (our Catholic faith as a body of teachings) and in whom we believe (God – our personal relationship with him). What we believe is important , but even more important is the One in whom we believe. Our faith is personal and has general teachings.
The prayer of St Patrick can be found on the back of the Challenge holy card this month. He is a great example of understand these two aspects or types of faith. St Patrick spread the teachings of the Catholic church all across Ireland – even the most complex teachings of our faith, like the Holy Trinity. But St Patrick had a beautiful personal relationship and faith in God. We can see that in the prayer or St Patrick " Christ with me, Christ before me, Christ behind me, Christ to my right and left…" St Patrick brought God into every aspect of his life and showed us what a LIVING faith is all about.  Faith is hard because it means believing in something and someone that we have not seen. If we could see it then it would not be faith – it would be proof and knowledge. Faith is hard because it involves trusting someone and putting yourself out there.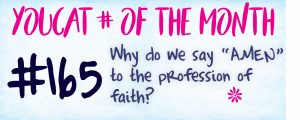 The Youcat number of the month speaks about the profession of faith. #165 Why do we say "Amen" to the profession of our faith? We say Amen—"Yes"—to the profession of our faith because God appoints us witnesses to the faith. Anyone who says Amen assents freely and gladly to God's work in creation and redemption. The Hebrew word amen comes from a family of words that mean both "faith" and "steadfastness, reliability, fidelity". "He who says amen writes his signature" (St. Augustine). We can pronounce this unconditional Yes only because Jesus in his death and Resurrection has proved to be faithful and trustworthy for us. He himself is the human Yes to all God's promises, just as he is also God's definitive Yes to us.