Article was originally posted on the Regnum Christi website.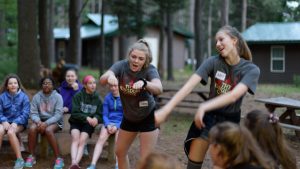 Earlier this year, it looked like a long-time Challenge camp near Chicago might not happen in 2018. But then two young women in Regnum Christi, Maria Vogel and Adele Danner, took up the task of organizing the camp themselves. Maria had attended this camp since its first year, when she was in the fifth grade. She later met Adele at the summer camp when they were both in seventh grade. (The two are now in college.) This year, they called the event "Thy Kingdom Come Camp" and focused on a medieval theme that Maria and Adele had developed throughout the year. Night games even included costumes and scavenger hunts.
The camp was so well organized that Maria found she had time to walk around and accompany different girls. The months before had been demanding but, during the week itself, she felt relaxed. "It's the ideal camp to go to as a Consecrated," Maria said, "because you don't have to do any work. I think it's pretty unique in that it's totally lay-run." Adoration was a special time during the camp, when Maria, sitting at the back, could see many girls praying fervently, journaling and being transformed.
She told us about one team leader who was very nervous about speaking. Maria was a little concerned that this young woman should have a good experience – she had always loved coming to camp but had never led before. "It was amazing," Maria said, "to see how, throughout the week, she'd be volunteering to MC the talent show or lead an activity." Later, the young team leader's mother cried when Maria told her about her daughter's transformation during the week of camp. Because this young girl had felt loved and accepted, she overcame her nervousness.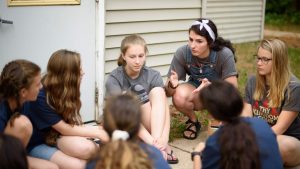 Maria told us that Regnum Christi formed her and her family. She has been involved since she was young and spent a year as a Regnum Christi Missionary and another year . While she was learning the ropes, she also learned to lead by being pushed out to talk. She noted, "The most important part of running a summer camp is having a relationship with Jesus. When you have that, it all just runs well, and the girls see that. When your team leaders see that in you, they strive for that too."
Maria is praying that some other young woman will take over next year, as she plans to attend the ordination of her brother, Br Christopher Vogel, LC, in Rome, and then to travel around Europe and attend the Catholic Worldview Fellowship.
Yvonne Fontaine, a Regnum Christi Consecrated Woman currently stationed in Michigan, congratulated the organizers on their work. "Maria and Adele did a fantastic job running the camp with the ECYD spirit," she said. "They were close to the team leaders and the girls alike, which really allowed the girls to receive a positive witness of servant leadership and of young women on fire for Christ."
Describing the ECYD spirit, Yvonne said, "The girls were very encouraging of each other. They put their whole heart into all the activities, and the leaders did an excellent job modeling this positive behavior. Many of the girls said adoration and all-night adoration was their favorite parts of camp because they were able to spend more time with Jesus."
Yvonne herself was on hand to mentor the girls in Challenge and to help them have strong ECYD experiences. Fr Brett Tiara, LC, was also present as a chaplain, and some moms helped out, too. With people in so many different vocations taking part, Yvonne saw it as "an experience of the whole spiritual family bringing the charism to life for the girls and, in turn, for their families." Most who attended the camp were from the Chicago area, but it also attracted girls from Minnesota, Iowa and Indiana. Maria concluded, "I could just see how Jesus was deeply working in the hearts of the girls, and I think that is our hope."