Article submitted by Margaret Merrill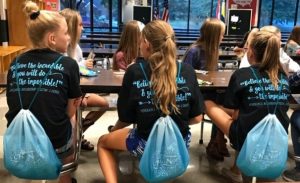 Another great project and idea from Challenge and Conquest in East Tennessee! The need we are responding to here is helping the youth learn the saints. They love Halloween but there is not much to learn from scariness, witches and goblins and yet its such a cultural thing that I wanted to find a way to enjoy being scared and celebrating a favorite holiday of kids while including those who are offended by it.
We did something a little unconventional and created a graveyard filled with caskets of  saints. We had Team Leaders be the saints. The looked up the saints, chose the one they liked the most and then the brainstorming began. We decided to do it during the parish fall festival. On the Friday night, we have a parish fundraiser spaghetti dinner so the evening was perfect. It can be done during the day but not as scary. All parishioners were invited. If you used it for a fundraiser you could charge per person. We used the teams as small group leaders who led people through he yard, collected money, decorated boxes while team leaders created there costumes and found someone good in makeup.
We used refrigerator boxes for caskets.  We put small crosses in front of each casket.  We had a smoke machine blow the smoke through the grave yard. We had a creepy banner made  with the words "Saintly Souls Cemetery". Small group of 3 or 4 people would go and stand at each casket and the saint would arise. The team leaders did this as dramatically as they could. The team leaders dressed like the saints and in some cases they dressed up to reflect how the saints were martyred.   They spoke as if they were the actual saint and what was done to them. I can not tell you how much the kids liked this event and the hub it stirred in the parishioners.