For October, the Saint of the Month for Challenge is Venerable Carmen Rendiles. Her life story is inspiring because she lived a simple life with great love, overcoming personal disabilities and illness to help and serve other people.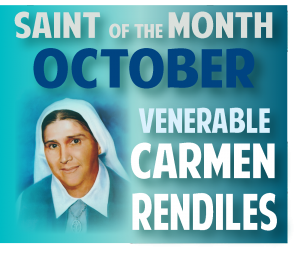 Carmen Elena Rendiles was born in 1903 in Caracas, Venezuela. She was the third of eight children and her family was wealthy and respected in the capital city. Carmen was born with a rare physical deformation and was missing her left arm.  She lived her whole life with a prosthetic arm, but this physical setback never affected her joyful spirit. She was admired and impressed many people with how she lived her life, not letting her handicap hold her back.
When she was fifteen, she started to be a catechist at her parish and would go on missions to nearby towns to teach. She did this for many years and began to feel the calling to be a religious nun and serve God. In 1927 she joined the Congregation of the Servants of the Blessed Sacrament, which was based in France but had convents in Venezuela. She did her studies in Toulouse, France. Afterwards, she went back to Caracas and worked there in the convent for about 10 years.
She served in many different jobs and positions during her time as a nun and in 1951 she was named the Provincial Superior (which is the person in charge of all the nuns in a region.) During her time in charge, she started new convents and several schools in both Venezuela and Columbia. She even started a school for poor children in her old childhood home, which she inherited. The nuns in Columbia and Venezuela eventually had to split from the congregation in France because of the distance and Carmen became in charge of the new congregation of nuns.
She continued her work as director of this group of nuns until her death in 1977. In 2013, Pope Francis  declared her a venerable person and her process of sainthood continues.