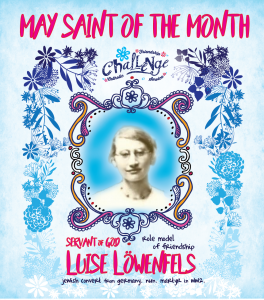 Luise was born in a small village in Germany in a Jewish family in 1915.  Even though she was Jewish she attended a Roman Catholic school. When she was 10, her father passed away, and she found great consolation and friendship from the girls at her Catholic school during that difficult time.  This was one of the reasons she was very attracted to the Roman Catholic faith and often visited Catholic churches and would attend Mass. Her family was not happy about this and her brothers would often get angry with her.
Eventually after her conversion to the Catholic faith, her family disowned her.  She sought refuge in nearby convents.  In the 1930's due to the Nazi imposed laws on the Jews, she regularly had to change her place of residence and she jumped from convent to convent.  In 1935, she was baptized and received the name Maria Aloysia.
Due to increasing threat of the Nazi regime, many Jews decided to leave Germany.  Maria Aloysia's plan was to move to England but she ended up in the Netherlands in the convent of the Poor Maidens of Jesus Christ.  She joined the order in 1937 and became a nun.  Because of her Jewish origin, she was no longer allowed to teach at the local school and she was forced to wear the yellow Star of David.  Although the German occupiers had promised not to pursue the Jews who had converted to Christianity, they deviated from this decision after the Dutch Bishops had openly protested against the German actions.
Together with dozens of other Catholic converted Jews including Edith Stein, Sister Aloysia was arrested and brought to the concentration camp, Auschwitz. She died there in 1942 when she was only 27 years old.  In 2015, they started her process of canonization as a Servant of God.