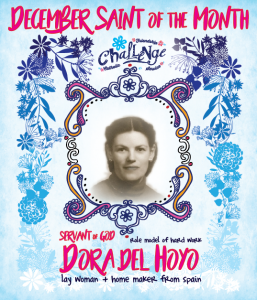 Dora del Hoyo Alonso was born in Spain in 1914. Her parents were exemplary Christians and raised her to be a good daughter of God. She grew up in a small farming town with just over a population of 200 people. Dora's father was a farmer and her mother was a woman of prayer with a wonderful lively sense of humor. She grew up in a loving home with many family traditions. Her mother taught her to pray, especially for those in the war and orphaned children. She encouraged her children to go to confession regularly, and they would all attend mass together on Sundays. Dora's mother also taught her daughter to be a wonderful cook and home maker. Although winters were very cold where they lived, Dora's parents never let her skip school, she was a bright pupil and valued education.
As a teenager and young adult, Dora was well known to love the simple things in life. She found joy in preparing a good meal and serving others. She created extraordinary experiences by doing ordinary things with perfection. Dora, following the example of the Blessed Virgin, took care of the others like a mother or an older sister and sought their good in the beauty of the work she carried out. When Dora was 26 years old, she moved to the big city of Madrid. She was employed as a housekeeper to several families. Very quickly she showed herself to be intelligent, capable, hardworking, and a quick learner.
In 1945, she began to work in a student boarding house, which had recently been established by the founder of Opus Dei. St Josemaria Escriva quickly recognized that Dora would be indispensable in creating the family atmosphere that he wanted at the boarding house. She had more than 100 students under her care. Her example helped many to value ordinary work as a means of growing closer to God. She moved to Bilboa a year later and helped start up another Catholic boarding house there for students. Outstanding among Dora's characteristics were her devotion to the Holy Eucharist – the Holy Mass was the center and root of her interior life – as well as her tender love for our Lady and St. Joseph and her trusting recourse to her guardian angel. A few months after moving, the founder of Opus Dei invited her to Rome to work at a new center they were starting there. She lived and worked at the central headquarters for the rest of her life.
She died in 2004 after a good life dedicated to God and others. In 2012, her process of canonization began and she is now called a Servant of God.