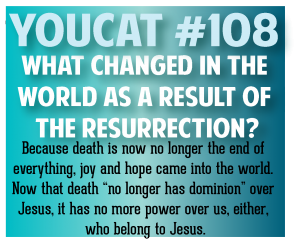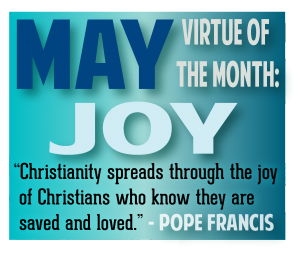 The virtue of the month for May  in Challenge & Conquest is joy. Joy is deep. It is a state of mind and an orientation of the heart. Joy brings peace in your heart and it is lasting. It comes from doing good and loving God. Joy comes when we know that whatever happens we are held in the arms of the Father. A Christian's joy is a  shared joy.  When you do something fun with your friends it is great to talk about it afterwards and almost seems better just because other people were there. A shared joy is a deeper joy. As Christians we share the same faith and hope that God loves us and we will be with him one day. It is a joy we share with millions around the world.
Pope Francis recently said that "Joy springs from a grateful heart." If you stop and think about it, this statement is very important. Everyone wants to be happy and find the secret to always keep a smile on their face and joy in their hearts. Gratitude or being grateful for all the blessing God gives you does make you happier. When we start to be envious or ungrateful and act like we deserve certain thing from people, then we find ourselves sad or down. Selfishness does that. People who know how to thank other people and God sincerely for all they receive in the day, will probably find themselves with a smile on their faces and joy in their hearts.
Youcat # of the Month 108 is all about this Easter Joy :What has changed in the world as a result of the resurrection? Because death is now no longer the end of everything, joy and hope came into the world. Now that death "no longer has dominion" over Jesus, it has no more power over us, either, who belong to Jesus.