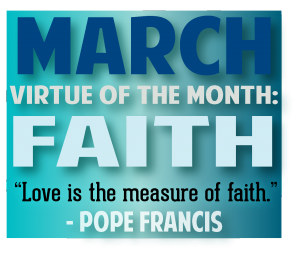 The virtue of the month for March in Challenge & Conquest is faith. Faith is hard because it means believing in something or someone  that we have not seen. If we could see God then it would not be faith – it would be proof and knowledge. Faith is believing without seeing. It is about trusting that God is there for us even in the hardest moments. Faith means trusting that God is loving even when things are hard. It is believing he knows what is best and things will work out.   Faith is hard because it involves trusting someone and putting yourself out there. There is personal faith in God and there is the concept of my "Catholic faith" – as in the teachings of church. Both are important. Pope Francis said,"Love is the measure of faith." He is probably speaking of this aspect of our Catholic faith to go out and show people we are Christians by our love for other people. ButPope Franics could also be speaking of our personal faith in God. Faith, hope and love go hand in hand in life. When you love someone, you usually trust and have faith in them. Part of loving God is believing in him and trusting in his goodness.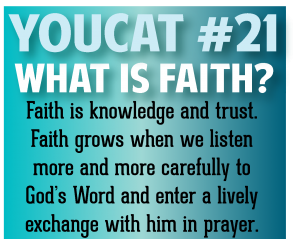 In this year of mercy, we can turn to the writing of St Faustina as well to see how she explains her faith and love for God. "When I see that the burden is beyond my strength, I do not consider or analyze it, but I run like a child to the Heart of Jesus and say to Him: "You can do all things." And then I keep silent, because I know that Jesus Himself will intervene in the matter, and as for me, instead of tormenting myself, I use that time to love Him."
The YOUCAT # of the month for Challenge and Conquest speaks about our faith in God. #21 Faith—what is it? Faith is knowledge and trust. Faith grows when we listen more and more carefully to God's Word and enter a lively exchange with him in prayer.