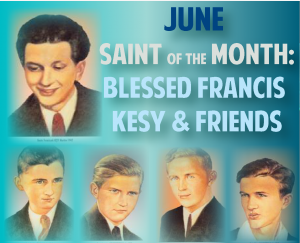 In the month of June, the Challenge and Conquest saints of the month are Blessed Francis Kesy and his 4 good friends. Their story below shows how they supported each other in living their faith and worked together to make a difference. That is why they are great role model for Catholic teens. In Challenge and Conquest, one of the big aspects is the team based activities and learning about your faith together. That is what Francis and his friends did for each other, even in tough moments.
In 1939, at the beginning of the Second World War, Hitler invaded Poland. The Salesian Youth Group Center in Poznan was occupied and turned into a barracks for German soldiers. The young people continued gathering in the woods outside the city as well as in the city gardens. A number of secret societies came into being. In 1940 , Francis Kesy and  his four friends from his youth group were arrested and accused of belonging to an illegal religious organization. They were taken to a prison and were tortured and interrogated. Following this they were taken to various other prisons where they were not always lucky enough to be together.  In prison, they prayed constantly: rosary, novenas to Mary Help of Christians, morning and evening prayer. When it was possible they celebrated liturgical feasts happily in their cell. Their faith never wavered. They remained credible witnesses until the end. The tried to stay in contact with their families through messages they often succeeded in sending secretly. Taken back to Poznan they were processed, accused of High Treason and condemned to death. They were martyred on  August 24th, 1942.  They were beatified on June 6, 1999 by Pope John Paul II.
Here is little bit about each of these young men.  Francis Kesy was born in Berlin in 1920. During the occupation, he got a job in a factory. He spent his free time at the youth group center, where he led youth groups and activities. He was a happy, good person, and was always ready to help others. Almost every day he went to communion; he said the rosary every evening.  He was 22 when he died. Edward Klinik was born in 1919. He was timid, but became much livelier once he came to the youth group. He was a good student, responsible. He was 23 when he died. Jarogniew Wojciechowski was born in 1922. He  was thoughtful, and would try to get an overall view of things to try to understand events. He was a leader in the best sense of the term. He stood out for his good humor,  and being very involved. He was 20 when he died. Czeslaw Jozwiak was born in 1919. He was known to be a bit hot-tempered, but spontaneous, full of energy,  ready for sacrifice, and positive. One of his prison friends wrote: "He had a good character and heart, and a soul like crystal… " He was 21 when he died. Edward Kazmierski was born in 1919 and was known for seriousness, prudence,  and goodness. He was able to develop his musical talent in the youth group. He was considered very deep and mature. In prison he showed great love towards the older prisoners. He was free of any hatred for those who were persecuting him. He was 21 when he died.