Article  by Amelina Mendoza, Challenge Leader in Sacramento, California.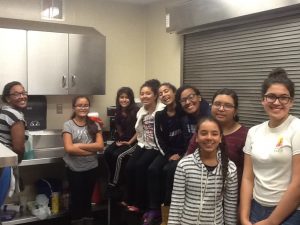 The girls in the Challenge Sacramento Club have had a busy year full of events that have made a big impact on their own lives and the lives of others.
In October, twenty of our girls did the Mommy Mission project.  Four weeks before the big day, the girls collected baby items and lots of diapers for the new moms. They asked parishoners and friends to help with the collection and donations. They made personal cards and six large beautiful baskets and delivered them to the women at the Bishop Gallegos Home, which is a house for pregnant women in need. The mothers to be were very thankful for the act of kindness.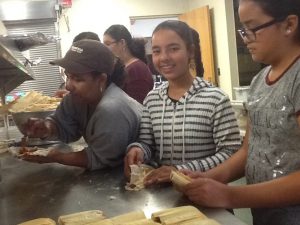 In November and December, the girls decided on the project to make over 100 homemade tamales and hand them out to the poor and underprivileged. It was a mother daughter project, with about 40 moms and daughters taking part. We all gathered for part one of the event – to make homemade tamales. The next day we gathered at 5am to wrap the tamales and tie a note to them that said "Jesus loves you. God Bless and smile." Then we went downtown to hand out the food to those in need for breakfast. The people were grateful because they were just waking up and were hungry and cold.  WE were there for about an hour and half handing out the food personally to the homeless people with a smile. The girls were saddened by the people who were sleeping on the cold concrete, but glad to see the people smile when they received the food.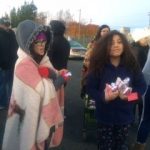 Another highlight was the Challenge Journey retreat we did for the girls. We did stations o the cross where the girls wrote their own reflections. The candlelight procession rosary to the chapel was a moment many of the girls loved. During adoration, we did a reflection and activity about Mary Magdalen. The girls came up one by one to write something in a small sandbox before our Lord. It is a powerful and special moment of prayer for many of the girls. Since the theme of the retreat was Journey, we had a staff member dress up as a mysterious hiker who would randomly show up. Sometimes he was lost, or alone or in need of help. It helped introduce a lot of activities about how Jesus finds us and what friendship with Christ is all about.