Article submitted by Debbie Gramlich, Club Leader of the North Pinellas Challenge in  Florida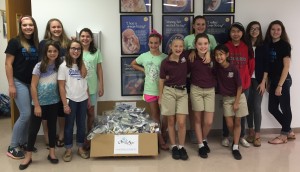 The Challenge Club in North Pinellas Florida may be smaller in size but it is big on spirit and service!  The 11 girls and team leaders are full of enthusiasm for the projects they do and love working in the community. This past November, the girls were invited to prepare and serve a hot meal to the homeless of downtown Clearwater, Florida with the help of Joy of the Gospel Ministries.  The girls were unsure of their abilities at first to do such a big project, but each of the girls spread the word about the project and inspired many other friends and families to come with them to volunteer.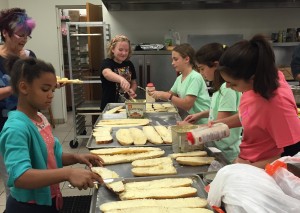 They coupled this opportunity with the project from the Challenge Team Leader Guidebooks called Blessing Bags. The girls worked extremely hard to collect toiletries for the "blessing bags" to give to the people at the shelter. Each blessing bag contained a few razors, combs, shampoo, conditioner, toothbrush, toothpaste and soaps. Some even had things like nail clippers, socks, and floss. 
Members of Espiritu Santo Catholic Church and School, the parish where Challenge meetings are held each Friday, also pitched in and helped tremendously in collecting enough toiletry items to prepare 170 Blessing Bags!  The girls (and moms) were just amazed how God provided so well through the generosity of others.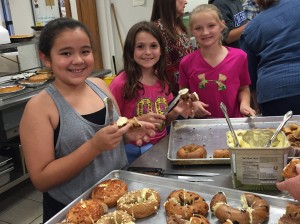 On November 23rd, the girls prepared lasagna, salad, garlic bread, tea, lemonade, and pie, and served it to about 100 hungry homeless men, women, and children who had gathered at Peace Memorial Church for the meal.  The girls were encouraged to talk to the people they were serving and to love them as they would love Christ Himself. Some of the girls circled in pairs with notebooks and collected prayer requests from those eating, as well as their names so the Challenge team could pray for them during Advent. Many of the homeless were quite touched at the genuine kindness of the girls, and thanked them for the meal.
One homeless man asked in true astonishment, "Why are you so happy? Please tell me why you have so much joy." All of the girls agreed afterward that this has been one of the best projects yet! Through this project, they experienced the true joy that comes from serving the Lord.