Article submitted by Angela Maria Velasquez-Kanazeh,  Challenge Club Leader  in Chantilly,VA.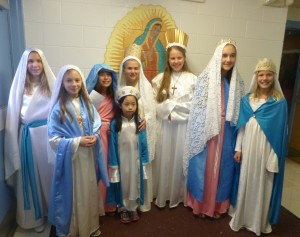 Last October, the Challenge Girls Club in Chantilly,VA at St Timothy's parish participated in the Annual Parish International Festival in a very special way. They decided to spread the devotion to the Blessed Mother and make her present at the parish festival. Instead of having a booth at the festival, eight girls from the Timothy Challenge girls' club dressed up in costumes as Marian apparitions and led a scavenger hunt throughout the festival grounds. The girls were dressed up in costumes representing eight different apparitions: Our Lady of La Vang, Our Lady of La Salette, the apparitions at Beauraing, Our Lady of Lourdes, Our Lady of Guadalupe, Our Lady Rue du Bac, Our Lady of Fatima, and Mary of Knock.
Children and families were given a "Marian passport" upon arrival at the festival ticket booth. People would have to walk around and find the Challenge girls, ask them questions, and once they were able to identify them correctly, the girl in costume would stamp their passport. Whoever filled up their passport with a stamp from each Marian apparition was able to submit their name for a $100 raffle drawing that evening. The Challenge girls all had to scatter and not be in groups so that people would have to walk the entire festival to find them. As they toured the festival grounds, participants ran into the costumed girls, guessing which apparition they were dressed as. Curious passport holders asked questions such as "What country did you appear in? Who did you appear to? What is the story behind your apparition? What was your message?" The Challenge girls answered questions, shared their apparition story, stamped passports for those who were able to guess correctly, and drew more than a few gazes from curious festival passersby. Families were allowed to guess as many times as they wanted until they got the correct answer.
Angela Velasquez, club leader shared her experience, "This was an activity we were very proud of. It was the first time we attempted something like this and will be repeating and refining it next year.