Article submitted by Fr Thomas Murphy LC and Br Luke Gill LC.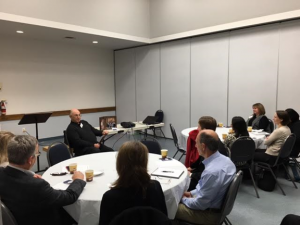 Saturday October 3rd,  over twenty leaders of Conquest and Challenge programs in the Hamilton, Ontario diocese gathered for a day of going deeper into what these programs are all about. The day started with Jack Bisgrove's moving testimony about his son, Brian, the founder of Conquest. The story of Brian's normal, yet saintly life told from a father's heart had a deep impact on the group and set the tone for a day of profound formation. 
Fr Thomas Murphy followed Jack with a presentation on the ECyD methodology which powers the Conquest and Challenge clubs. The third presentation of the morning was a joint effort of two experts on these clubs: the National Director of Conquest, Todd Brechbill and Corinne Kirkpatrick, veteran Challenge leader from Saskatoon. They tag-teamed during a presentation about how Challenge and Conquest work in practice and giving profound motivations for the work of the adult leaders. Particularly impressive was their insistence that the clubs are all about bringing our youth to the fullness of their identity as sons and daughters of God in a friendship with Christ. The afternoon round table discussions were characterized by openness and mutual enrichment, with the men breaking out for Conquest, and the women for Challenge. 
Many seeds where sown during this day of formation in early October. We pray that through the generosity of these men and women, these seeds will bear fruit in the lives of many boys and girls throughout the Hamilton diocese.