Challenge Jr. is a Catholic Faith and Virtue Program for girls from Kindergarten to the fourth grade. It is led by Adult Leaders, with the help from teen mentors who are usually Challenge members. The Curriculum each year focuses on five virtues with five saints. 
Each week the girls learn about how to live that virtue either with god, at home, at school or with friends. The Curriculum can be found in the Adult Leader Guidebook and the kits for leaders also includes virtue posters and virtue stickers to help the girls follow along.Challenge Jr believes in the power of positive recognition and creating memories. To do this, we offer virtue charms, holy cards and new bracelets to help keep the girls excited about learning and living their Catholic faith and Christian virtue.
The Challenge Jr Weekly Meeting has 8 different parts. There are moments for fun like the snack and group game. There are moments to learn about the virtue of the week and the saint story. The girls will also learn about one Catholic prayer. There is even time for a virtue craft, all centered around a common theme.  There are several kits that we offer to run the program effectively:
Challenge Junior Program Leader Kit

Challenge Junior Program Member Kit

Challenge Junior T-Shirts

Challenge Junior Bracelets and Charms Packs
Challenge Jr Packages and Material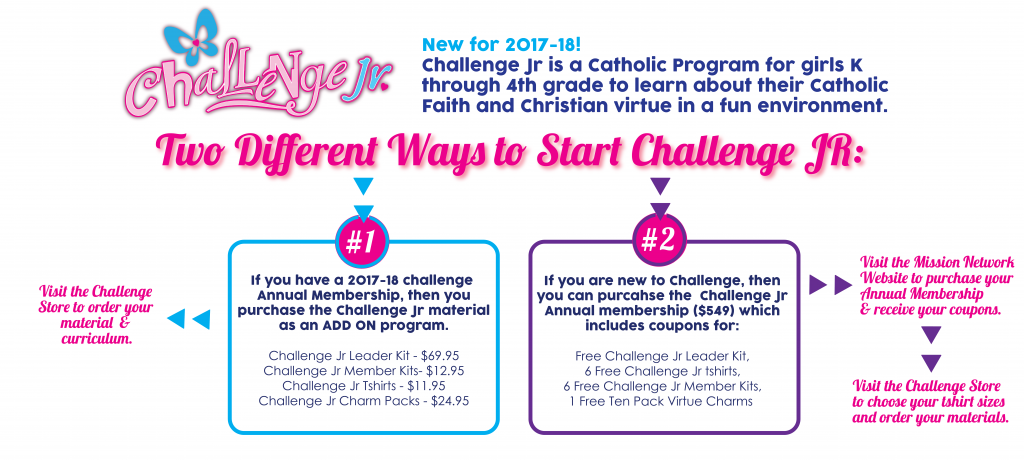 Challenge Jr materials include a Leader Kit for 2017-18 with the Curriculum Guide,  a Challenge Jr Member Kit, a Challenge Jr T-Shirt and Challenge Jr Virtue Charms. Download the Challenge Jr Info Brochure for more information about how Challenge Jr works and available materials.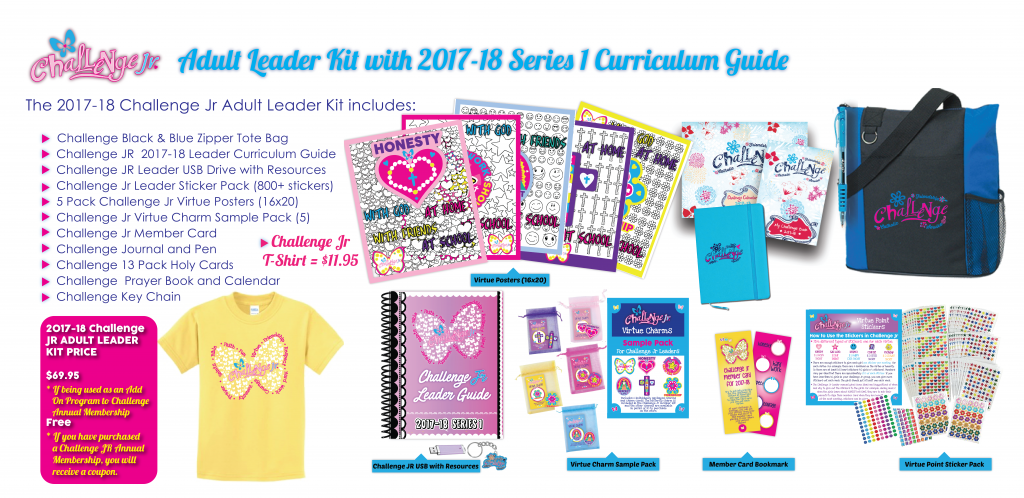 The Challenge Jr curriculum guide in the leader kit focuses on five virtues each year. Each virtue has four weeks of curriculum, which focuses on living that virtue with God, with family, with friends, at school in the corresponding week. Each virtue has a saint role model that the girls can learn about. The story of that saint will be carried throughout the 4 weeks of meetings by showing a video or telling a story about their life. 
Download the Challenge Jr  Sample Curriculum Map and  Weekly Curriculum.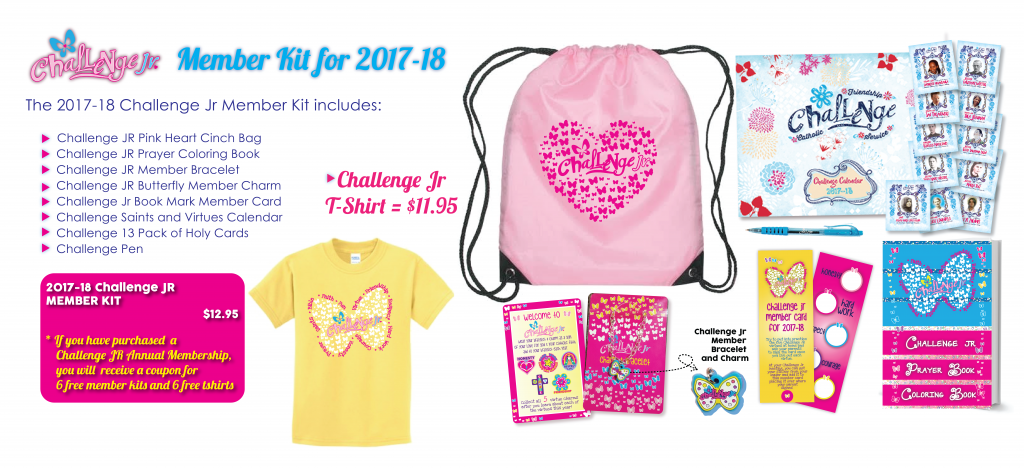 When the girls join Challenge Jr, they receive a member kit with a friendship bracelet that has a Challenge Jr charm. Each time they complete a 4 week session on virtue, they receive a virtue charm that goes along with that virtue & saint. This year the virtues and saints are Honesty (Our Lady of Fatima), Hard Work (St Anthony of Padua), Respect ( Our Lady of Guadalupe), Courage (St Paul) and Friendship (St Francis of Assisi). The charms are sold in packs of ten on the Challenge store. They are packaged in a special bag with a holy card for the virtue and saint. They are optional add ons to the program materials.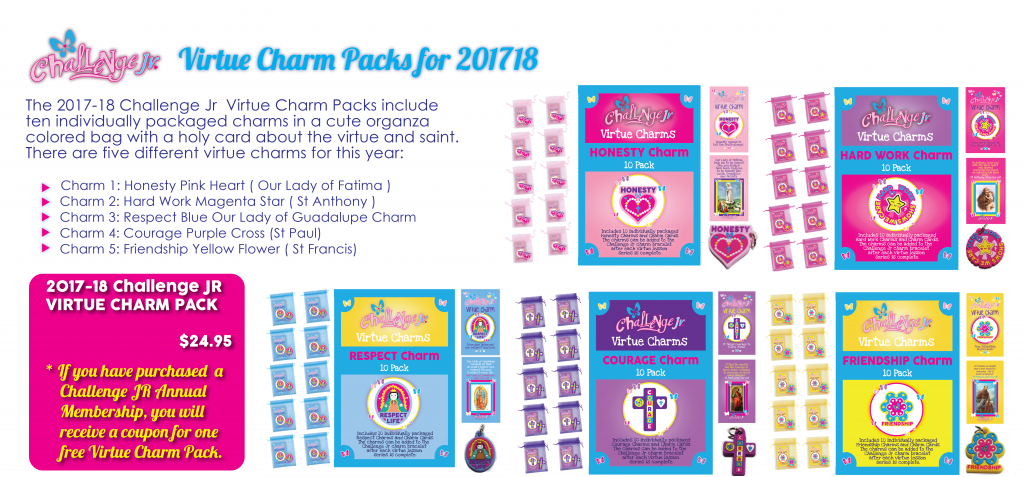 Visit our Challenge Junior Online Store for more information about the available products.